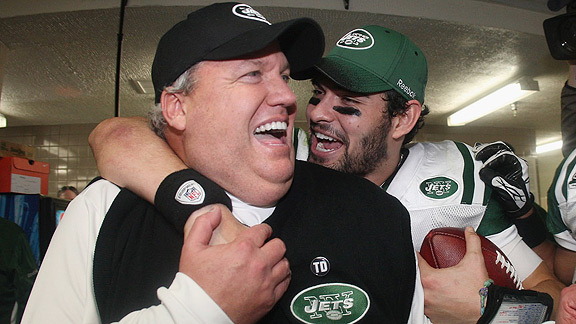 Al Pereira/Getty Images
"Congrats on the book deal coach. You earned it!"
Rex Ryan is never at a loss for words and now his words are spilling out onto paper. By spring 2011, just around the corner from the Ayn Rand section, sports fans will be able to purchase a copy of Rex Ryan's new autobiography. The Jets head coach will collaborate with best-selling author Don Yaeger, who has written books on Walter Payton, Warrick Dunn and Warren Moon, to write his memoirs.
The book will blend "Ryan's upbringing with his leadership style" and will be published by Doubleday Books and released just a few months after the 2010 NFL season comes to a close, making it the perfect read if the NFL lockout occurs next year.
"He's got so much to say and there are so many parts of his life that are interesting ... If somebody would have pitched him on a strict autobiography, that probably wouldn't have worked," Yaeger told the Daily News. Thank goodness that didn't happen.
We're so excited we've already started marking the chapters we're looking forward to reading:
Chapter II: Me and My Twin Rob - The hardships Rex faced growing up in the shadows of a twin brother with amazing hair.
Chapter IV: There's Crying In Football (Foreword written by Jimmy Dugan, manager of the Rockford Peaches) - Ryan will likely tell us, "Contrary to popular belief, the best way to rally your team is crying in front of them." However, just a few days after Ryan turned on the waterworks, the Jets went into New England and lost 31-14.
Chapter VIII: A Stain On the Sweatshirt Is Worth Two Wins In The Playoffs - How Rex Ryan and the New York Jets parlayed a pizza stained hoodie into a berth in the AFC Championship Game.
Chapter X: The "Bird" Doesn't Fly With Authority Figures - Rex warns children of all ages that you're never too old to show poor judgment. Oh, and be extra cautious at MMA fights.