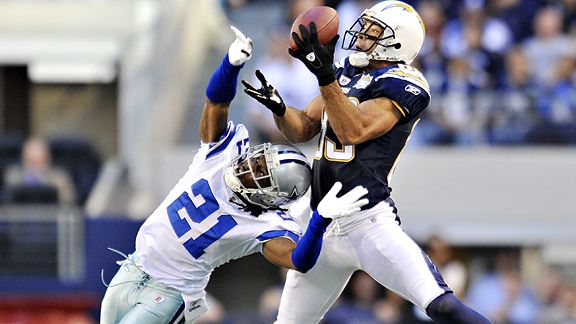 AP Photo/Michael Thomas
Source: Jackson Suspended By NFL
The NFL suspended San Diego's Pro Bowl wide receiver Vincent Jackson three games for violating the league's personal conduct policy, a league source told ESPN's Adam Schefter. The three-game suspension can be reduced upon appeal, but it is uncertain whether Jackson will appeal. Jackson pled guilty in February to DUI, his second conviction. The suspension could be a moot point, however. Jackson has been planning to not report to the Chargers unless he signs a long-term contract extension that nobody believes is forthcoming. If the season starts, and Jackson does not report, then he would be suspended for three games that he wouldn't have played in anyway.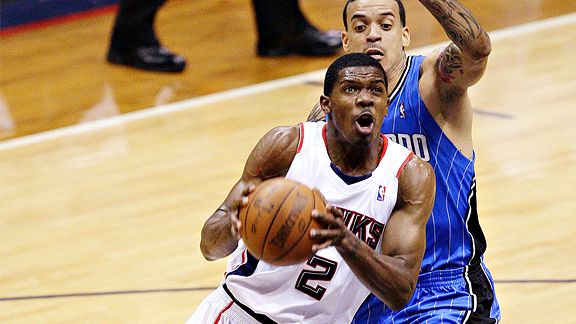 Josh D. Weiss/US Presswire
Report: Joe Johnson Gets $119M Offer
The Atlanta Hawks were prepared to offer free-agent-to-be Joe Johnson a maximum six-year contract when the Hawks and Johnson's representatives met this morning in Los Angeles, league sources told ESPN The Magazine's Ric Bucher. Johnson's representatives were also scheduled to meet with the Knicks and Heat as well, but Johnson's first choice is to stay in Atlanta, a source told ESPN. Yahoo.com reported that the Hawks offered a six-year, $119 million contract to Johnson in their meeting and that Johnson was prepared to accept the offer.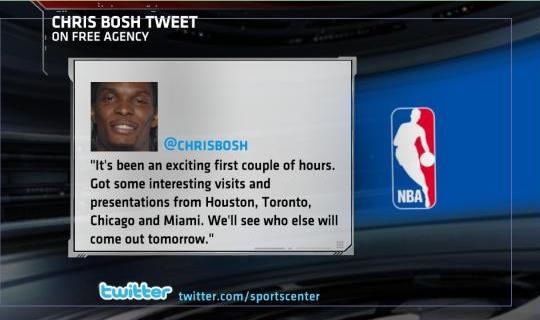 Chris Bosh was up late last night. It started when Houston Rockets general manager Daryl Morey met with the coveted free agent in Dallas just after midnight -- making a pitch at the exact moment free agency opened. After the meeting, Morey tweeted -- "Just finished meeting with @chrisbosh -- great player & person. He is about winning so I focused on how w/Houston he can win a championship." By early this morning, here's what Bosh tweeted -- "It's been an exciting first couple of hrs. Got some interesting visits and presentations from Houston, Toronto, Chicago and Miami. We'll see who else will come out tomorrow."