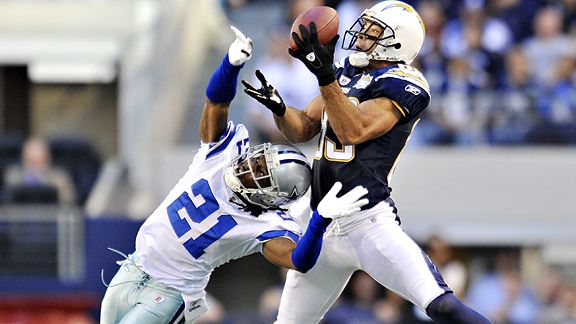 Elsa/Getty Images
Source: Jackson Suspended by NFL
The NFL suspended Chargers WR Vincent Jackson three games for violating the league's personal-conduct policy, a league source told ESPN' NFL Insider Adam Schefter. Jackson pled guilty in February to DUI, his second conviction.
Report: Joe Johnson Gets $119M Offer
The Atlanta Hawks are doing their best Don Corleone impression. They presented free agent Joe Johnson with an offer he (likely) can't refuse. Sources told ESPN NBA Insider Chris Broussard that the sharp shooter is likely to accept the offer. Johnson was offered a maximum six-year contract worth $119 million to return to Atlanta, where he led the Hawks in scoring at 21.3 points per game.
Source: Utley to Have Thumb Surgery
Philadelphia Phillies 2B Chase Utley will be out at least eight weeks following surgery on his right thumb. Utley hurt his thumb while sliding into second base Monday, trying to stretch a lead-off single into a double against the Reds.
Phil Jackson Returning to the Lakers
Lakers coach Phil Jackson said Thursday he's ready for one final season, his 20th in the NBA. "After a couple weeks of deliberation, it is time to get back to the challenge of putting together a team that can defend its title in the 2010-11 season. It'll be the last stand for me, and I hope a grand one." The Zen Master seeks his 4th career three-peat.
Serena, Zvonareva in Wimbledon Final
Defending Wimbledon champion Serena Williams will play for 4th singles title Saturday. Serena earned her way to the final by defeating unseeded Petra Kvitova in straight sets Thursday. Serena plays 21st-seeded Russian Vera Zvonareva in the final. It will be Serena's third-consecutive Wimbledon finals appearance Saturday.
Former San Diego Chargers Coach, Don Coryell Dies at Age 85
Don Coryell, the innovative coach whose offense produced some of the most dynamic passing attacks in NFL history, has died at age 85. The San Diego Chargers did not release the cause of death, but Coryell had been in poor health for some time.
Virginia Police Not Ready to Close Book on Vick
Michael Vick has not been ruled out as a suspect or person of interest in a shooting investigation in Virginia Beach. The Eagles QB maintains his innocence, "I want to assure everyone that I had nothing to do with that incident," Vick said in the statement provided to The Associated Press by his representatives Thursday night. Vick said he reported the incident to the Eagles and "to representatives of Commissioner Roger Goodell."
Sources: Gay Agrees to $80M Grizzlies Deal
Rudy Gay will remain with the The Memphis Grizzlies. Sources close to the situation told ESPN.com say that the deal is for five-years, worth just over $80 million. Gay tweeted, "Thanks to everyone for the love! Good luck to the rest of the boys in free agency! Let's make history!"
Report: GM, Manager Out in Arizona
The Arizona Diamondbacks are cleaning house. The team fired manager A.J. Hinch and GM Josh Byrnes Thursday. Jerry DiPoto will take over as interim GM and Kirk Gibson as interim manager, according to the USA Today. An official announcment is expected Friday. Arizona has the third-worst record in baseball at 31-48.
The San Francisco Giants traded catcher Bengie Molina to the Rangers. Texas gives give up reliever Chris Ray and a player to be named later and also receives some cash back so that neither team takes on additional salary. Molina turns 36 in July, and is batting .257 with three homers and 17 RBIs in 61 games so far this season.