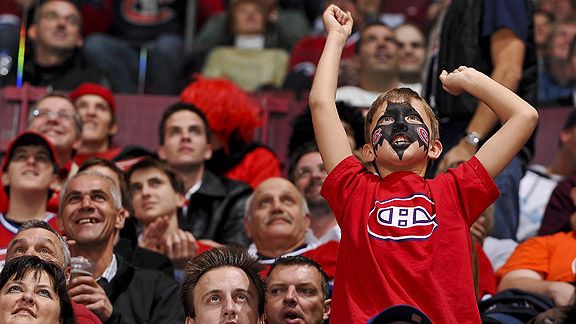 Photo: Francois Lacasse/NHLI/Getty Images
In Canada, Batman is known as a hockey player who fights crime in the offseason.
Although the Montreal Canadiens got shutout last night in a 3-0 loss to their Canadian rivals, the Toronto Maple Leafs, there are good times ahead for the Habs.
That's because yesterday the NHL board of governors approved the purchase of the Canadiens by members (and beer fortune beneficiaries) of the Molson family. This will actually be the fourth group of Molsons to own the Canadiens since the 1950s, so we can already imagine how this one is going to end. If you love something, set it free – right?
Anyhow, the NHL's approval of the Molson's purchase is well timed because the Canadiens mark their 100th Anniversary at home this Friday when they host their American rivals, the Boston Bruins. If you're like us and the past 100 years seem to have flown right by, here's a great list from TSN of 100 reasons why the Canadiens are a team to celebrate. No doubt, with more Stanley Cup seasons than any other team (24), we're happy to see the Canadiens become centenarians.
And because it's their birthday, we'll be courteous and not elaborate on the fact that an American (previous owner George N. Gillett Jr.) stands to make about $300 million on the sale of their team. Or that the Chairman of the brewing company that makes Molson beer is also an American (Pete Coors).
Instead, we'll let our friends up north get the last laugh with this classic commercial from Molson's "I am Canadian" campaign. A little advice to those in Boston heading up to Montreal for the game on Friday – do not make fun of beavers while in Canada. There are consequences for such things.