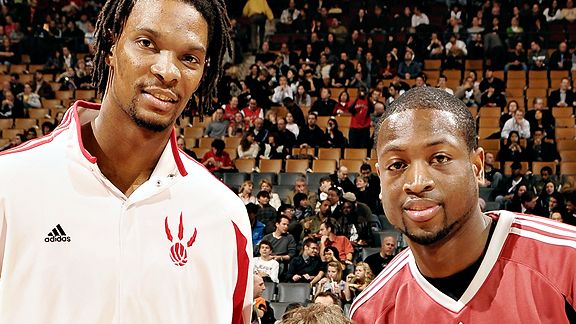 Ron Turenne/Getty Images
Reports: Bosh Joins Wade in Meeting with Bulls
Dwyane Wade met with the Chicago Bulls for a second time Friday but made no commitment to the franchise, a source told ESPN.com's Chad Ford Friday night. The 2½-hour meeting included the Bulls' front office, "D-Wade" and his agent Henry Thomas. Multiple reports said Chris Bosh was involved with part of the meeting.
Heat, Clippers Making Pitches to LeBron
LeBron James met with the Miami Heat and Los Angels Clippers Friday, and still is mum on any possible free-agent decision. The Bulls are scheduled to meet with James at 2:30 p.m. ET Saturday, after the Cavaliers make their pitch to try to retain the local hero.
Wesley Sneijder scored on a header as the Netherlands rallied to stun five-time champion Brazil 2-1, becoming the first semifinalist of the World Cup. Sneijder's goal came on a header off a corner kick in the 68th minute. Felipe Melo was ejected in the 73rd for stepping on Dutch winger Arjen Robben, leaving Brazil with 10 men down the stretch.
Earnhardt Drives #3 to Nationwide Win at Daytona
Dale Earnhardt Jr. drove the #3 Chevrolet car for the third and final time Friday night, and in victorious fashion. Junior honored his late father, Dale Earnhardt Sr., with a win at the Nationwide Series race at Daytona International Speedway.
Uruguay Earns First World Cup Semifinal Spot in 40 Years
Uruguay and Ghana provided an instant classic Friday. Uruguay missed a penalty kick at the very end of extra time, and then won the shootout 4-2 after a 1-1 draw. The wild win sent the South Americans into the World Cup semifinals for the first time in 40 years.
Knicks Near Deal with Stoudemire
Amar'e Stoudemire may be a New York Knick by the end of the weekend, according to Y! Sports. Stoudemire and the Knicks are making progress in talks on a five-year, $100 million max contract.
Mavs Make Dirk Offer; Meeting Again Saturday
Dirk Nowitzki now knows how much he's worth to the Dallas Mavericks. Mavericks president Donnie Nelson said he made a "significant" contract offer to Nowitzki's adviser during a meeting Friday. Nowitzki could respond as soon as Saturday, when the sides are expected to meet again.
Steve Blake will play alongside Kobe Bryant and for Phil Jackson as the journeyman is headed back to Tinseltown. Blake and the Lakers reached agreement Friday on a four-year, $16 million contract after turning down overtures from five other teams. ESPNLosAngeles.com is reporting the Lakers have also opened discussions with free-agent swingman Mike Miller.
Nadal, Berdych Cruise Into Finale
Rafael Nadal reached his fourth Wimbledon final after beating Andy Murray in straight sets Friday. The top-ranked Spaniard was at his relentless best, winning 6-4, 7-6 (6), 6-4. "Rafa" will face 12th-seeded Tomas Berdych, who defeated Novak Djokovic in straight sets in the first semifinal 6-3, 7-6 (9), 6-3.
Justin Rose Leads as Tiger Woods Survives Cut at AT&T National
Justin Rose played bogey-free golf Friday and ended with the best score of the AT&T National tournament. Rose's 6-under 64 helped to build a one-shot lead over Jason Day and Charlie Wi going into the weekend. Tiger Woods followed his 73 on Thursday with a 70 Friday, qualifying for weekend play. Woods also submitted his entry form for the Aug. 12-15 PGA Championship.