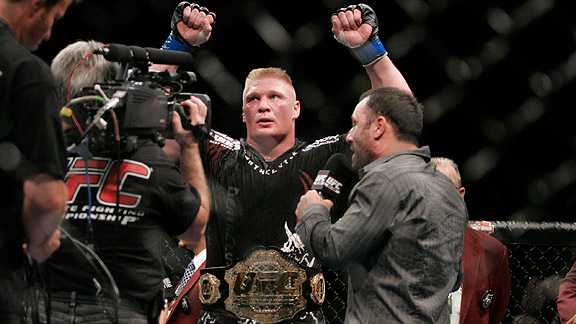 Ric Fogel for ESPN.com
The battle of big heavyweights was everything it was billed to be. Interim champion Shane Carwin landed a huge left hook in the 1st round that dropped Brock Lesnar to the ground but couldn't finish the fight. In Round 2, Lesnar took Carwin to the ground and finished the fight with an arm triangle that forced Carwin to tap. The champion regained his heavyweight title belt.
Mavs, Nowitzki Agree on New Contract
The Dallas Mavericks have agreed to terms with All Star forward Dirk Nowitzki. Nowitzki opted out of the final year of his contract last week, but never had intentions of leaving the only team he's ever played for. The deal is reportedly worth 4-years and $80 million - considerably less than max $96.2 million he was eligible for. Nowitzki left money on the table in hopes the Mavs would be able to bring in another quality free agent to join him.
After the jump, World Cup Semis Set, Raptors Not Likely to Sign and Trade Bosh, Stoudemire In NY, Serena Wins Wimbledon, Vick Staying in Philly, and Manny to the DL.
Thomas Mueller scored early for Germany giving Argentina its first deficit of the tournament. They didn't handle the situation well as Germany went on to score three more goals in the 4-0 route. Miroslav Klose scored two more goals for the Germans, giving him four in the 2010 FIFA World Cup. Germany will play Spain in the semifinals on Saturday at 2:30 p.m. ET (ESPN, ESPN3.com and ESPN MobileTV).
Spain Sneaks Past Paraguay, 1-0
Spain earned its first-ever spot in the World Cup semifinals with a dramatic 1-0 win over Paraguay Saturday. David Villa secured the rebound from a Pedro Rodriguez attempt and curled a shot in off the far post. Spanish goalkeeper Iker Casillas saved a 59th-minute penalty by Oscar Cardozo and Paraguay goalie Justo Villar matched him on a re-taken PK by Xabi Alonso two minutes later. Spain now faces Germany Wednesday at 2:30 p.m. ET (ESPN, ESPN3.com and ESPN MobileTV).
Raptors Not Interested in Sign and Trade with Chris Bosh
If Chris Bosh is leaving this summer, it won't be with the blessing of his former team. ESPN.com's J.A. Adande reports that the Raptors are not interested in helping their former franchise player make extra money as a free agent. The NBA's collective bargaining agreement allows teams to re-sign their own players for more money than they would get on the open market. Bosh said he wanted to keep that extra money by agreeing to a sign-and-trade deal with the Raptors and a team of his choosing.
Serena Claims 13th Grand Slam Triumph
It didn't take long for Serena Williams to earn her fourth Wimbledon title Saturday. The top-ranked American swept the 12-seeded Russian Vera Zvonareva 6-3, 6-2 in 67 minutes. It's Serena's 13th Grand Slam championship, passing Billie Jean King on the all-time women's singles list. This was the first time she defeated someone other than her sister Venus in the final. The Williams sisters have now won nine of the last 11 Wimbledon titles.
Eagles Deny Report that Vick Could be Out
Following a report that the Eagles were considering waiving Michael Vick, the team released a statement denying the rumor. Vick has been questioned by police regarding a June 25 shooting that took place outside the building where he was hosting a birthday party. From the Eagles statement: "Any report or speculation that suggests the Eagles are considering releasing Vick are not true. We will continue to gather information and monitor the situation and we will not have any further comment until that process is complete."
Stoudemire-Knicks Talks Moving Ahead
Amar'e Stoudemire has not agreed to become a member of the New York Knicks, yet. Sources on both sides of the talks confirmed to ESPN NBA Insider Chris Broussard that the team offered the free-agent forward a five-year, $100 million deal -- the maximum allowed -- and are waiting to talk to him in person to complete the deal. Stoudemire is in NY and is expected to meet with the Knicks again on Monday.
Armstrong Not Paying Attention to Landis
American cyclist Lance Armstrong says he is too busy to pay attention to a disgraced former teammate's allegations. Floyd Landis, who was stripped of his 2006 Tour de France title for doping, accused Armstrong of receiving an illegal blood transfusion during the 2004 Tour. Armstrong said Landis' claims were like a "carton of sour milk: once you take the first sip, you don't have to drink the rest to know it has all gone bad."
Report: Dodgers to put Ramirez on DL
A strained right hamstring has forced Manny Ramirez to the 15-day disabled list. Dodgers manager Joe Torre said the team needed to decide whether to play a man down or send Manny to the DL. Ramirez was in a groove, hitting .460 in his last 15 games. The Dodgers are 13-15 without Manny in the lineup this season.