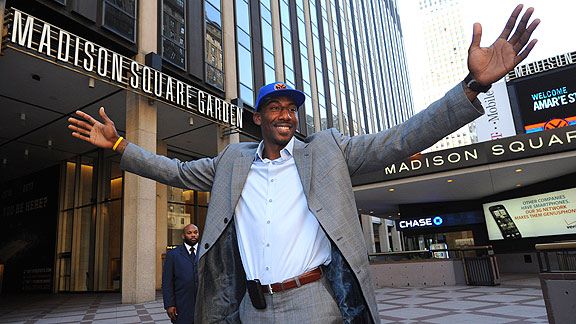 AP Photo/ Louis Lanzano
Amar'e In a New York State of Mind
All-Star forward Amar'e Stoudemire has agreed to terms with the Knicks on a 5-year, $100 million contract. The former Sun is the first big-name free agent to change team this summer. The Knicks are still in the hunt for LeBron James and have enough money left to offer him a max contract too.
Former Oakland Raiders QB JaMarcus Russell was arrested Monday for possession of codeine syrup. The former No. 1 overall pick was arrested at his home in Mobile, AL during an undercover investigation. He was released after making $2,500 bond. Russell is scheduled to appear in court on July 20. A bond hearing is set for July 7.
Zambrano Expected To Throw This Week
Cubs manager Lou Pinella says pitcher Carlos Zambrano will resume throwing this week. He didn't say when Zambrano would return to the club though. The hot-tempered right-hander was placed on the restricted list after a dugout confrontation with teammate Derrek Lee. He was scheduled to undergo a treatment program agreed upon by doctors from the Players Association and Major League Baseball.
Roger Federer has fallen to No. 3 in the new world rankings released today. It's the first time since November 2003 that he's been ranked that low. He now trails No. 1 Rafael Nadal and new No. 2 Novak Djokovic.
Tigers Reliever To Have Surgery Next Week
Tigers pitcher Joel Zumaya will undergo surgery on his throwing elbow next Monday. Detroit hoped Zumaya would be able to avoid going under the knife to fix the fracture of a small bone in his right elbow. Tigers head trainer Kevin Rand said, "It's a very, very common surgery, really, to be perfectly honest with you."
All-Star forward Carmelo Anthony is staying in Denver next season, even if he doesn't agree to a contract extension. A high-ranking Nuggets official told ESPN The Magazine's Chris Broussard that the team will not trade Anthony this summer. The Nuggets have offered Anthony a three-year, $65 million contract extension that would keep him in Denver until 2015.
Former Red Wings forward Bob Probert, who was known for his toughness and his fights, died Monday at the age of 45. While boating with his family, Probert felt severe chest pains and collapsed on the deck. His father-in-law, Dan Parkinson, performed CPR immediately but could not revive Probert. He is survived by his wife and four children.
Kovalchuk Decision Coming Soon
The agent for Ilya Kovalchuk, star of the NHL free agent market, says his client will decide his future very soon. It's believed he is deciding between the New Jersey Devils and the New York Islanders. Kovalchuk scored 41 goals last season for the Thrashers and Devils. Since joining the NHL in 2001-02, Kovalchuk has scored more goals than any player in the league - 338.
Chavanel Wins Tour De France Stage, Takes Lead
France's Sylvain Chavanel won the rain-soaked second stage of the Tour de France on Monday to take the overall lead. Seven-time champion Lance Armstrong finished in the middle of the pack after falling in a race filled with crashes. Overall, Armstrong dropped a notch to fifth place and is 3 minutes, 19 seconds behind the leader.