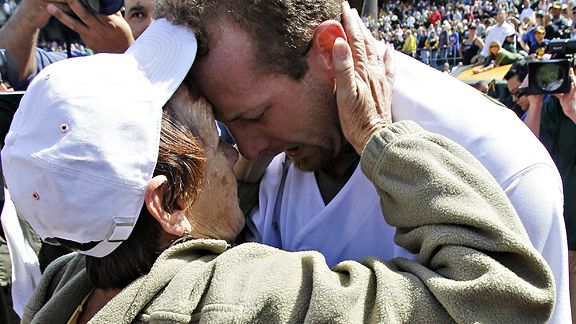 AP Photo/Marcio Jose Sanchez
"You give me five minutes with each of those pitchers and I'll have them ready to pitch against anyone."
The only things guaranteed in life are death, taxes and all-star snubs. Sure, Final Vote (which ends Thursday at 4 ET) helps ease the snubbery, but by week's end there are going to be some unhappy ballplayers.
Much has been made about Joey Votto's omission from the NL All-Star team and rightfully so. The Reds first baseman is batting .318 and leads the NL in home runs (21) and OPS (1.017) while playing for the Central Division leading Reds. In the AL, it looks like Jered Weaver may have gotten the short end of the stick. The Angels ace has an 8-3 record with a 2.82 ERA and leads the majors in strikeouts (124). While Votto can still make the All-Star squad through Final Vote, Weaver wasn't afforded that opportunity -- he was snubbed from the Final Vote ballot as well.
But don't feel bad Jered, you aren't the only one who was slighted. Here are some other people who would add a jolt of energy to the Midsummer Classic:
Peggy Lindsey Braden: After her grandson Dallas pitched MLB's 19th perfect game on Mother's Day, Peggy Lindsey told Alex Rodriguez to "stick it." Who doesn't love a grandma with some moxie? You can't tell us there isn't a role for her giving pep talks in the bullpen.
Ronny Cedeno: You must know by now that SportsCenter.com loves mustaches. But if there's one thing we love more than mustaches, it's painted on mustaches.
Ron Artest: He's already a "Champion" and he's recorded an at-bat song prove it. Now he just needs a stage to showcase it. And, ahem, he's local so getting there shouldn't be a big problem.
Jamie Moyer: On June 27, Moyer surrendered his 506th home run, the most in MLB history. Do you know how tough it is to give up 506 homers? That's longevity worth rewarding.
Red Sox Medical Staff: Josh Beckett, Dustin Pedroia, Victor Martinez, Clay Buchholz, Daisuke Matsuzaka, Jacoby Ellsbury and Mike Cameron have all spent time on the disabled list. Did we miss anybody? The Yankees may dominate the coaches being recognized but we think the BoSox staff should get some special consideration for their first-half efforts.
Armando Galarraga: It doesn't quite make up for his 28-out perfect game, but it's some sort of consolation prize.
Landon Donovan: Team USA's exit to Ghana was painful, but throwing out the game's first pitch would be a nice way to say thanks for a memorable World Cup run.