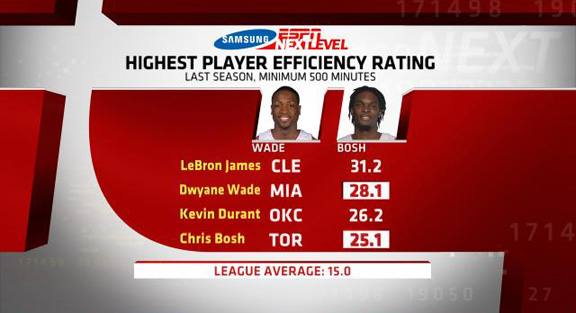 DYNAMIC DUO: According to ESPN.com's John Hollinger's Player Efficiency Rating - a per-minute, pace-adjusted rating of a player's statistical productivity - Dwyane Wade and Chris Bosh were the 2nd and 4th most efficient players in the NBA this season among players to play at least 500 minutes. The league average PER is 15, and a typical All-Star will have a PER above 20 or so.
After the jump, see why Lance Armstrong is having issues in France, inside Miguel Cabrera's triple threat and find out what Johan Santana accomplished that hasn't been done since 2005.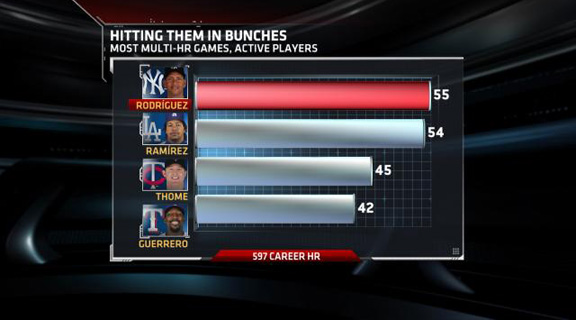 MONSTER MASHER: Alex Rodriguez had the 55th career multi-home run game of his career last night against the A's. That broke a tie with Manny Ramirez for most among active players. Rodriguez is now just three home runs shy of 600 for his career. Rodriguez has hit three grand slams this season, marking the fourth time in his career he has hit at least three in a season and tying Jimmie Foxx as the only other player to accomplish the feat.
Game Recap | Box Score | Highlight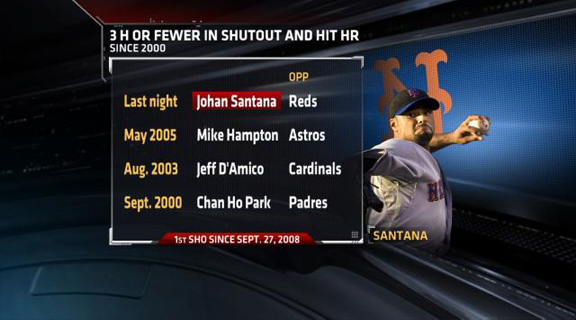 BRINGING THE BIG STICK: Johan Santana becomes the first pitcher since Mike Hampton in 2005 to throw a shutout, allowing three or fewer hits and hit a home run in the same game. He's also just the 2nd Met ever to do it, joining the immortal Pete Falcone from 1981.
Game Recap | Box Score | Highlight | ESPNNewYork.com Mets Blog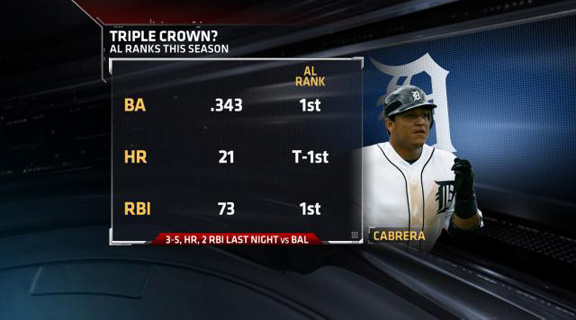 TRIPLE THREAT: Might we see our first Triple Crown since 1967? With another big game last night, Miguel Cabrera leads the AL in batting average and RBI's and is tied for lead in home runs. He extended his hitting streak to 15 games. Detroit has won 14 of its last 16 home games. The Tigers have also won 4 of 5 and hold on to a slim .5 game lead in the AL Central over the Twins.
Game Recap | Box Score | Highlight | MLB Standings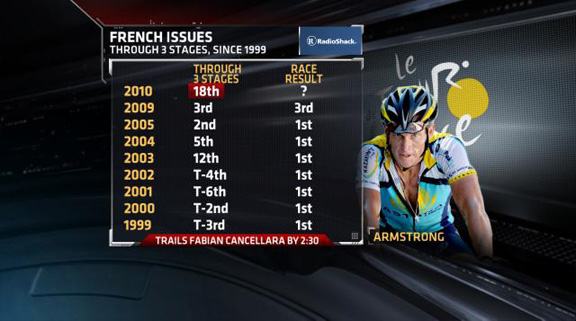 FALLING BEHIND: Since winning his first Tour de France in 1999, Lance Armstrong has never been this far back in the pack through three stages. The furthest he has ever come back to win from was in 2003, when he was 12th. Last year, he was 3rd through three stages before finishing the race 3rd overall.