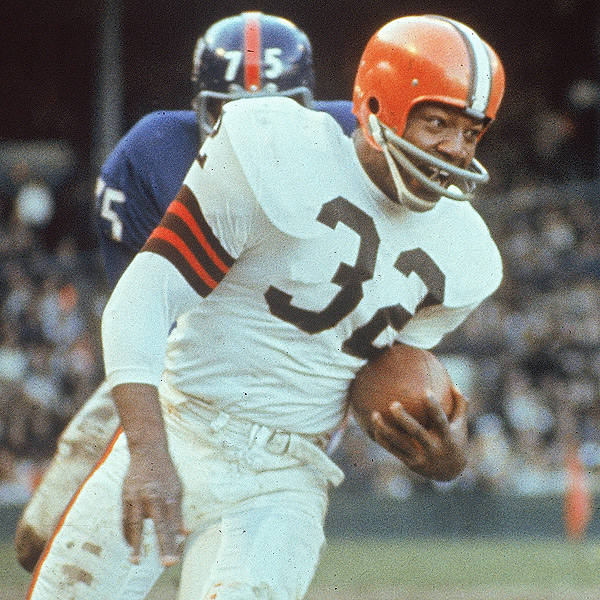 Jim Brown US Presswire
Jim Brown looks a lot like Madden's Player No. 37.
Jim Brown's message to video-game publisher Electronic Arts came through loud and clear the other day: "I'm Gonna Git You Sucka!" Brown, who lost his lawsuit against EA in which he accused them of illegally depicting him in their Madden franchise has decided to appeal the September ruling, claiming he was never given an opportunity to demonstrate the facts.
In case you didn't follow the case last fall, here's what we know: On two historical teams, the 1965 Cleveland Browns and the "All Browns" team, EA created an African-American running back with similar stats to Brown, but instead of a No. 32 jersey (which Brown wore in Cleveland) the running back wore No. 37, which Brown said EA used simply to avoid being sued. However, the judge ruled the Madden series is an expressive work and the company was exercising its First Amendment rights when it depicted a player similar to Brown.
If the original decision is overturned and Brown wins his suit, some other classic video game franchises could find themselves in court. What's stopping Jim Kelly, Randall Cunningham and Bernie Kosar from taking legal action against Tecmo for portraying them as QB Bills, QB Eagles and QB Browns in "Tecmo Super Bowl?" It's obvious who they represent. Tecmo isn't fooling anyone by giving Cunningham a 69 in rushing power and Philly fans know his celebration when they see it.
Video game developer SNK is at risk as well. Their 1989 classic "Baseball Stars" has a team titled the American Dreams whose entire roster is named after MLB greats. It's no coincidence they have a pitcher named Cy on the team. And changing Koufax's name from "Sandy" to "Sandie" isn't exactly disguising the Dodgers great.
And while we're on the subject of pseudo-player names, it looks like Michael Jordan will be available in some capacity in NBA 2K11. That's right, it's time to officially retire Player 99.