Byron Scott Arrives To Watch LeBron Work Out
The Cleveland Cavaliers may be taking a final shot at re-signing free agent LeBron James. New Cavs coach Byron Scott arrived to watch James and several Cleveland players work out today as the NBA - and seemingly the entire sports world - prepares for the two-time MVP to announce which team he'll sign with. Scott showed up as James was taking the floor to run a few full-court games with Cavaliers Jamario Moon, Danny Green, Christian Eyenga and assistant coach Chris Jent.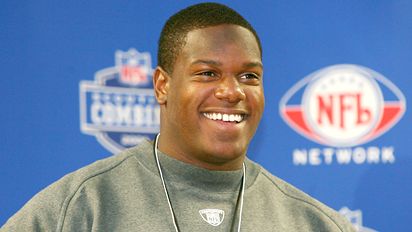 Jim Rogash/WireImage.com
Sources: Jets Give Ferguson Massive Extension
The New York Jets' contract logjam cleared up some today, when the team reached agreement on a colossal six-year, $60 million contract extension with offensive tackle D'Brickashaw Ferguson, according to our Adam Schefter. Ferguson had two years remaining on his initial contract, so he now will be tied to the Jets for eight years and $73.6 million. The guaranteed money is $34.8 million, a new record for an offensive lineman, surpassing the $30 million in guaranteed money that Miami gave No. 1 overall pick Jake Long. Of the four Jets who want new deals, Ferguson is the first to re-sign. His deal leaves the Jets now trying to re-sign cornerback Darrelle Revis, center Nick Mangold and linebacker David Harris.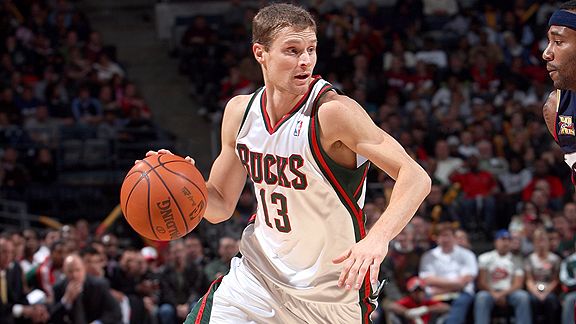 Gary Dineen/NBAE/Getty Images
The NY Post reports that the Knicks new power forward, Amar'e Stoudemire, would love to team up with free-agent point guard Luke Ridnour. The Knicks have Raymond Felton and Ridnour high on their list, but feel Ridnour could be the better value. The source said Stoudemire views Ridnour as 'Nash Lite' - someone who can run the pick-and-roll, pass the ball well and shoot from the outside. There are concerns Stoudemire will not be the same without Nash.
The Associated Press contributed to this report.