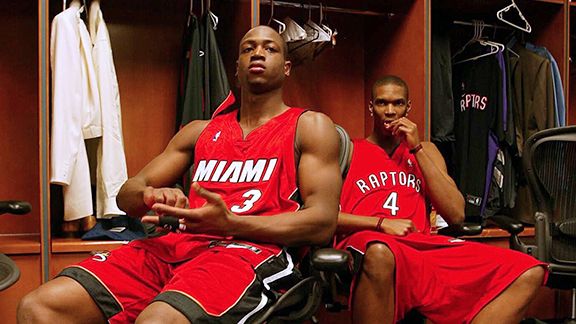 Wade and Bosh Joining Forces in Miami
Dwyane Wade and Chris Bosh ended months of speculation Wednesday, announcing their intentions to join forces to play for the Miami Heat. The All-Stars' decisions vault the Heat back into the NBA championship picture and put them two-thirds of the way to hitting one of the biggest trifectas in NBA history.
LeBron James will announce where he'll play basketball next season and beyond within the first 10 minutes of Thursday night's 9 pm ET broadcast on ESPN and ESPN3.com. Jim Gray will handle the introduction, announcement and questions. The broadcast also will include a long-form interview with Michael Wilbon and others from ESPN's studios.
Boozer and Bulls Strike a Deal
The Chicago Bulls got bigger and better Wednesday, agreeing on a deal with free-agent big man Carlos Boozer. According to ESPN NBA Insider Ric Bucher, the Bulls agreed to a 5-year $80 million contract with the former Utah forward. Boozer averaged 19.5 points and 11.2 rebound per game for the Jazz last season.
Ray Allen Returning to the C's
Ray Allen is re-signing with the Boston Celtics according to ESPN.com's Marc Stein. Allen's agent, Lon Babby, said his client and the Celtics have agreed to a two-year deal worth $10 million annually that includes a player option for the 2011-12 season.
White Sox's Peavy on Disabled List
The White Sox placed Jake Peavy on the 15-day disabled list with a detached muscle in the back of his right shoulder. It's highly likely that Peavy will be out much longer than the minimum 15 days and could be done for the year. Peavy had to leave Tuesday night's game against the Angels in the second inning after delivering a pitch.
Spain Advances to First World Cup Final
Spain reached its first-ever World Cup final with a 1-0 win over Germany Wednesday. Carles Puyol's goal on a powerful header in the second half was enough for the win. In Sunday's final, the Spanish team takes on the Netherlands, which has also never won soccer's biggest prize.
Sources: Jets Give Ferguson Massive Extension
D'Brickashaw Ferguson made history among offensive linemen Wednesday. The New York Jets and Ferguson agreed on a six-year, $60 million contract extension, according to our NFL Insider Adam Schefter. Ferguson's guaranteed money is $34.8 million, surpassing the $30 million in guaranteed money that Miami gave No. 1 overall pick Jake Long.
Durant and Thunder Agree on Deal
Kevin Durant made Thunder fans breathe easier Wednesday. Durant's agent Aaron Goodwin confirmed the All-Star has signed a maximum extension with Oklahoma City. Sources with knowledge of the deal told ESPN.com's Marc Stein that Durant will receive the five-year maximum from the Thunder, estimated at $86 million.
Prosecutor: Vick in Confrontation
The city's lead prosecutor said Wednesday night that Eagles QB Michael Vick was involved in a confrontation before a shooting following his birthday bash. Commonwealth's Attorney Harvey L. Bryant told The Associated Press Wednesday night in a telephone interview that Vick was not involved in the shooting and that he left the nightclub "in the 3 to 5 minute range" before it occurred.
Clippers Introduce New Head Coach Vinny Del Negro
The Los Angeles Clippers concluded their search for a new head coach when they formally introduced Vinny Del Negro on Wednesday afternoon at the Staples Center. Del Negro comes to the job in Los Angeles following consecutive 41-41 seasons as the head coach of the Chicago Bulls, including two playoff appearances.