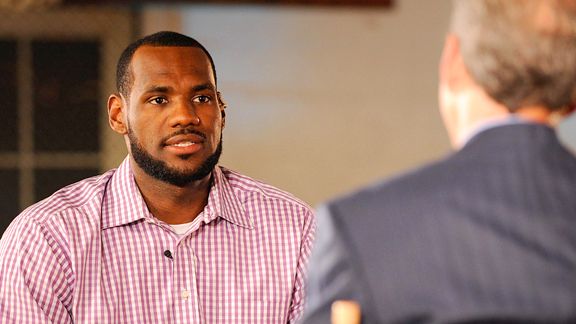 Rich Arden/ESPN
LeBron James ended the speculation and uncertainty Thursday, announcing he will 'take his talents to South Beach'. LeBron made his announcement one day after fellow All-Stars Dwyane Wade and Chris Bosh announced they'll sign with the Heat as well.
Votto, Swisher Headed to All-Star Game
Cincinnati Reds 1B Joey Votto and the New York Yankees OF Nick Swisher are All-Stars. Both players were added to the 2010 rosters for Tuesday's game in Anaheim by voting fans.
Knicks Introduce Amar'e Stoudemire
The New York Knicks introduced Amar'e Stoudemire Thursday, the same day it learned LeBron James wouldn't be joining its newest signee. Despite the disappointment, team president Donnie Walsh remained optimistic saying, "Today, we signed five-time NBA All-Star Amar'e Stoudemire, and we will continue to move forward, getting back on track to develop into a championship contending team."
Agent: Lee Agrees to Sign-and-Trade With Golden State
LeBron won't play for the Knicks next season and neither will David Lee, according to ESPN.com's Chad Ford. Lee's agent said that his client agreed to a sign-and-trade worth $80 million dollars over six years with the Golden State Warriors. The deal will send Lee to the Warriors for Anthony Randolph, Ronny Turiaf and Kelenna Azubuike among others.
USC Ineligible For 2010 Football Coaches' Poll
This will be an unranked season for USC in USA Today's football coaches' poll. Grant Teaff, executive director of the American Football Coaches Association, told USA Today that because the school is under major NCAA sanctions and prohibited from playing in a bowl, it will be ineligible for the poll.
Durant Signs Extension With Thunder
LeBron wasn't the only NBA All-Star making news today. Kevin Durant officially signed his multi-year contract extension with the Thunder Thursday. Terms of the deal were not disclosed, but Durant is expected to receive the maximum deal possible, $85 million over five years.
Johnson Signs Six-Year Deal With Hawks
Joe Johnson officially re-joined the Atlanta Hawks Thursday, signing a six-year deal worth an average of more than $20 million per year. Johnson and the Hawks verbally agreed to the maximum contract on Monday. The four-time all-star has been the team's leading scorer each of his five years in Atlanta.
Clijsters Defeats Serena in Front of Record Crowd
A world-record tennis crowd watched Kim Clijsters defeat Wimbledon champion Serena Williams 6-3, 6-2 in an exhibition in Brussels. The crowd of 35,681 at King Baudouin Stadium on Thursday surpassed the previous record of 30,472 set in 1973 at the Houston Astrodome in the Battle of the Sexes match between Billie Jean King and Bobby Riggs.
Good Goin' Goydos! 59 to Start Deere
In the 1st round of the PGA Tour's John Deere Classic, Paul Goydos shot a 12-under 59. He became just the 4th player ever to shoot 59 in a PGA Tour event. Goydos has 12 birdies and 6 pars -- He shot a 28 on the back 9. Goydos shot the 59 on a par-71 -- The other three did it on a par 72.
Sources: Haywood to Remain a Mav For $55M
Center Brendan Haywood agreed to a six-year, $55 million deal to return to the Dallas Mavericks, according to ESPNDallas.com. Last season, Haywood averaged 8.1 points, 7.4 rebounds and 2.0 blocks in 28 games for the Mavericks.