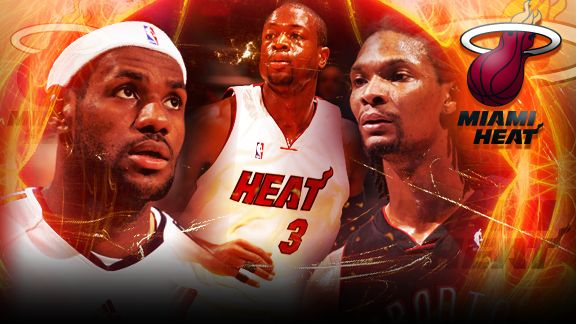 THE EX-GIRLFRIEND
From an open letter to fans by Cavaliers Majority Owner Dan Gilbert currently posted on Cavs.com
As you now know, our former hero, who grew up in the very region that he deserted this evening, is no longer a Cleveland Cavalier.
This was announced with a several day, narcissistic, self-promotional build-up culminating with a national TV special of his "decision" unlike anything ever "witnessed" in the history of sports and probably the history of entertainment.
...
You simply don't deserve this kind of cowardly betrayal.
You have given so much and deserve so much more.
In the meantime, I want to make one statement to you tonight:
"I PERSONALLY GUARANTEE THAT THE CLEVELAND CAVALIERS WILL WIN AN NBA CHAMPIONSHIP BEFORE THE SELF-TITLED FORMER 'KING' WINS ONE"
...
Some people think they should go to heaven but NOT have to die to get there.
Sorry, but that's simply not how it works.
This shocking act of disloyalty from our home grown "chosen one" sends the exact opposite lesson of what we would want our children to learn. And "who" we would want them to grow-up to become.
But the good news is that this heartless and callous action can only serve as the antidote to the so-called "curse" on Cleveland, Ohio.
The self-declared former "King" will be taking the "curse" with him down south. And until he does "right" by Cleveland and Ohio, James (and the town where he plays) will unfortunately own this dreaded spell and bad karma.
Just watch.
Sleep well, Cleveland.
Watch LeBron break up with Cleveland | Enjoy the open letter in full (especially the font) | Watch LeBron explain why to Michael Wilbon
More from The Rundown, including the dog, the moves, and more from the ex-girlfriend, after the jump.
MEANWHILE, THE DOG
LeBron flew into Miami overnight and tweeted his thanks to the contingent that showed up to greet him at the airport. Dwyane Wade and Chris Bosh had this whole thing planned from the start were understandably excited to link up with LeBron and are ready to tear the stuffing out of the NBA. Meanwhile, Wade's dog Sasha was understandably excited when Wade finally came home last night and already tore the stuffing out of her bed.
Wade and Bosh on LeBron | Wade on Twitter | TweetPhoto
MEANWHILE, THE MOVES
Michael Beasley (and his contract) is (are) on his (their) way to Minnesota. The Heat move the second overall pick in the 2008 draft in exchange for a second round pick in the 2011 draft. (They'll also likely swap future first round picks.) Meanwhile, the Knicks lost out on LeBron, but they did land Jordan. Sure, it's Jerome Jordan, the second-round pick of the Bucks out of Tulsa, coming east for cash considerations. But consider how much cash they'll rake in on jersey sales alone if (and when) he wears No. 23 in the Garden. Especially you, Spike Lee. Also, they shipped David Lee (no relation) to the Warriors (in a sign-and-trade worth $80 million over six years) for Anthony Randolph, Kelenna Azubuike, and Ronny Turiaf.
Heat Move Beasley | Knicks Move Lee | Knicks Get Jordan
MEANWHILE, BACK TO THE EX-GIRLFRIEND
From a telephone interview between the Associated Press and Cavaliers Majority Owner Dan Gilbert
"He has gotten a free pass. People have covered up for (James) for way too long. Tonight we saw who he really is...He quit. Not just in Game 5, but in Games 2, 4 and 6. Watch the tape. The Boston series was unlike anything in the history of sports for a superstar."