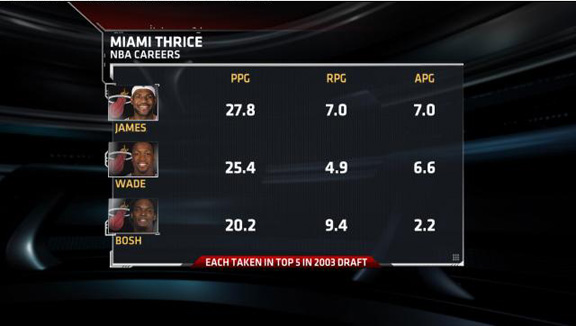 TRIPLE THREAT: All three of these players were taken in the first 5 picks of the 2003 NBA draft and each have prospered. They each have averaged over 20 points per game in their NBA careers and have combined for over 21 rebounds per game and 15 assists. Now will they be able to find enough shots to go around.
After the jump, inside Paul Goydos amazing opening round 59, why the Yankees want Cliff Lee and after winning his 15th game before the All-Star break...find out why you shouldn't pencil Ubaldo Jimenez in for the Cy Young just yet.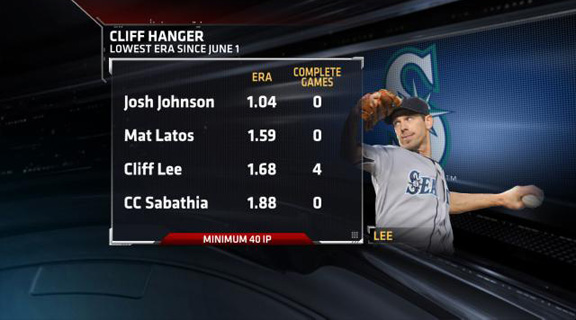 ON THE MOVE?: Cliff Lee's stock has arguably never been higher. Since the start of June, Lee has just a 1.68 ERA, the 3rd best in the majors among pitchers with at least 40 innings in that span. Since June 1st, he also has 4 complete games in 7 starts.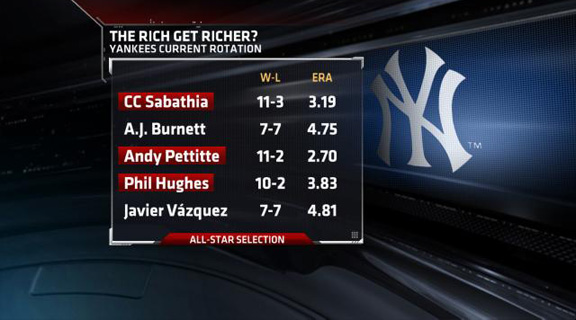 TRADE TALK: The Seattle Mariners are pushing hard to complete a Cliff Lee deal, and the Yankees could be closing in on a deal for the left-hander -- but as of Friday morning, there was no agreement in place, sources say, and it's possible that another team could step in and make a more aggressive bid. If the Yankees do land Cliff Lee, can you imagine having to face their pitching lineup in a 7 game series.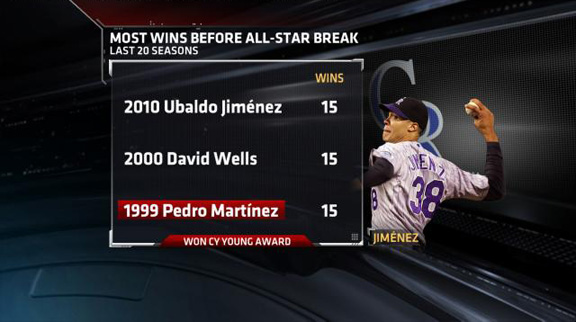 CY YOUNG?: Ubaldo Jimenez becomes just the 3rd pitcher in the past 20 seasons to earn 15 wins before the All-Star Break. It's no guarantee that he'll win the Cy Young, however, as the last man to do it, David Wells, went just 5-6 after the All-Star Game back in 2000.
Game Recap | Box Score | Highlight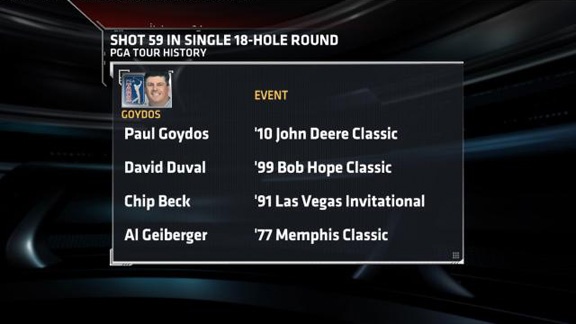 HOW LOW CAN YOU GO: Paul Goydos became the 4th player in PGA Tour history to shoot a 59. That ties the lowest competitive round in PGA TOUR history. For perspective, Dustin Johnson took his 59th shot in the 4th round of the US Open on the 13th hole and a lot of our readers take their 59th shot somewhere around the turn.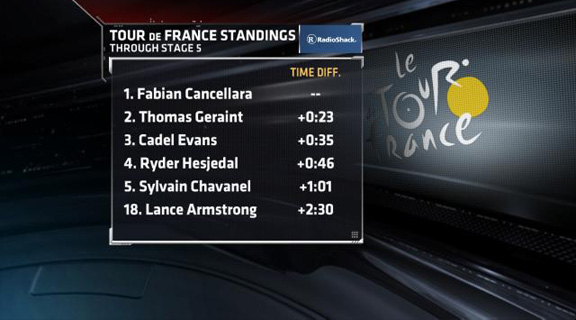 HEADING INTO STAGE 6: Entering today's stage of the Tour de France, Lance Armstrong was in 18th position, two and a half minutes behind leader Fabian Cancellara. British sprint star Mark Cavendish broke down in tears after overcoming a Tour de France victory drought by winning the race's fifth stage on Thursday. With the pack close on the heels of Cavendish, the overall standings didn't change on the hot and mostly flat 116.3-mile trek along wheat fields from Epernay in Champagne country to Montargis.