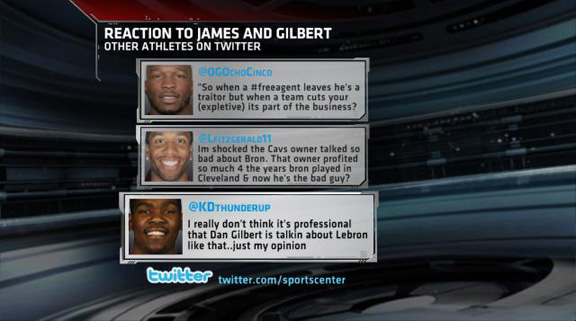 Ever since Cavs owner Dan Gilbert released his open letter to Cavs fans about LeBron's decision to leave Cleveland, the owner has been taking heat from athletes throughout the sports world. Here is a sampling of what some super stars are saying via twitter.
Chad Ochocinco (approx. 7 a.m. ET) So when a #freeagent leaves he's a traitor but when a team cuts your ass its part of the business? @OGOchoCinco
Larry Fitzgerald (approx. 10 a.m. ET) Im shocked the Cavs owner talked so bad about Bron.That owner profited so much 4 the years bron played in Cleveland & now he's the bad guy? @Lfitzgerald11
Kevin Durant (approx. 9 a.m. ET) I really don't think it's professional that Dan Gilbert is talkin about Lebron like that..just my opinion @KDthunderup
MORE: Cavalier Owner Putdown Brings Support to LeBron James | Open Letter to Fans from Cavaliers Majority Owner Dan Gilbert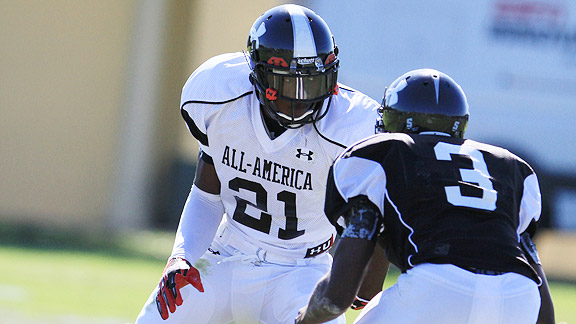 Two Tennessee Football Players Charged In Bar Fight
Police are continuing to investigate an early morning bar brawl Friday allegedly involving a number of Tennessee football players. The incident left an off-duty Knoxville police officer unconscious after being kicked repeatedly while he was on the ground. Freshman receiver Da'Rick Rogers was arrested and charged with disorderly conduct and resisting arrest. Also, sophomore safety Darren Myles Jr. was arrested and charged with assaulting a University of Tennessee police officer, as well as resisting arrest and evading arrest.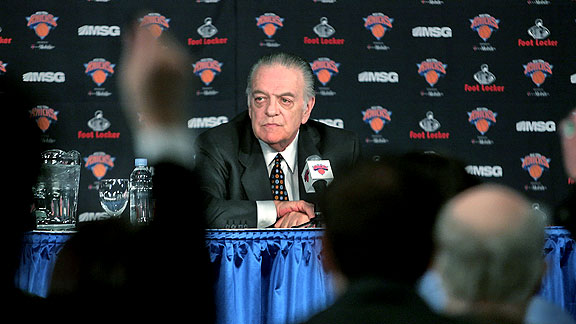 AP Photo/Bebeto Matthews
Knicks Prez Walsh Not Stepping Down, Retiring
Knicks president Donnie Walsh says he is not retiring, denying a report he may step down because of health problems and the disappointment of losing out on LeBron James. Walsh also denies speculation in the New York Post that his recent neck surgery had anything to do with his operation two years ago to remove part of his tongue because of cancer. He says the recent procedure was to remove a spur on his vertebra.
The Associated Press contributed to this report.