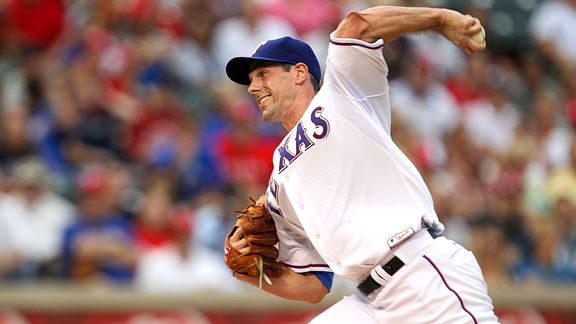 Ronald Martinez/Getty Images
Cliff Lee Throws Complete Game in Defeat
Cliff Lee threw his AL-best sixth complete game in his debut with the Rangers. Lee trailed 1-0 after giving up hits on his first two pitches and later yielded home runs in three consecutive innings. Baltimore's Chris Tillman countered with a no-hitter into the seventh inning, before leading the Orioles to a 6-1 win.
Travis Wood Loses Perfect Game in 9th as Reds Fall to Phillies in 11
Travis Wood was three outs shy of throwing nine perfect innings against the Phillies Saturday. Wood took a perfect game into the ninth before allowing Carlos Ruiz's leadoff double, and Philadelphia stunned the Cincinnati Reds again, winning 1-0 on Jimmy Rollins' RBI single in the 11th.
The city of Cleveland has begun washing their hands of their former home-town hero. Two days after LeBron James spurned the Cleveland Cavaliers to join Chris Bosh and Dwyane Wade in Miami, James memorabilia is coming down. One of the first things to go is the giant "We are all witnesses" banner that hung in downtown Cleveland.
Peavy's Surgery Never Before Tried on Pitcher
White Sox pitcher Jake Peavy will have surgery Wednesday to reattach a torn muscle in his shoulder. He is expected to be able to return to the mound next season, but nobody can know for sure since this procedure has never been tried on a Major League pitcher.
Germany Beats Uruguay 3-2, Wins Third Place
Germany claimed third-place for the second-straight World Cup, defeating Uruguay 3-2 Saturday. A potential game-tying equalizer for Uruguay hit the crossbar before deflecting out of bounds, giving Germany a thrilling third-place win. The 2010 FIFA World Cup concludes with Sunday's final, Netherlands vs Spain, at 1:30 p.m. ET (ABC, ESPN3.com, MobileTV).
LeBron Meets Fisher at Airport
LeBron James has gone from recruited to recruiter, according to ESPNLosAngeles.com's Ramona Shelburne. Miami's newest free agent went out of his way to meet Lakers free agent Derek Fisher, hoping to convince the five-time NBA champion to join the Heat.
Two More Names Added to Home Run Derby
Major League Baseball announced Saturday that Diamondbacks OF Chris Young and Yankees OF Nick Swisher have committed to participating in the 2010 State Farm Home Run Derby. You can watch the Derby on Monday, July 12th at 8pm ET (5pm PT) on ESPN, ESPN HD, ESPN Deportes, ESPN 3D and ESPN Radio.
He's not LeBron James, but he is one of the biggest soccer stars in the world and he's coming to New York. The New York Red Bulls have scheduled a press conference for Thursday where they will unveil Thierry Henry to the American media.
Reutimann Holds Off Late Charge at Chicagoland
David Reutimann blazed by Jeff Gordon on the way to victory in the Sprint Cup race at Chicagoland Speedway Saturday night. Carl Edwards made a charge in the closing laps, cutting Reutimann's lead to less than a second, but he couldn't get close enough and finished second. Gordon was third, followed by Clint Bowyer and Jamie McMurray.
Redd in No Hurry to Get Back on Court
It looks like Bucks guard Michael Redd is in no rush to get back on the court. Redd said Saturday that he doesn't want to risk coming back too early, that he admits he might have done last year. The former All-Star said he is shooting for a February return, around the NBA All-Star Break.