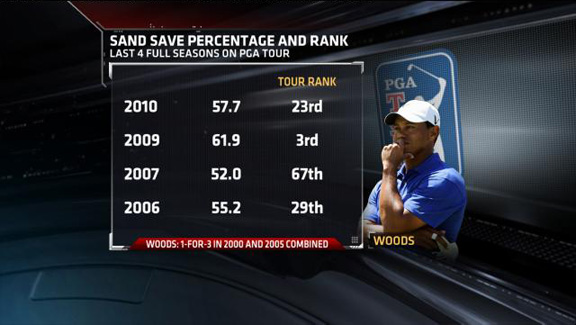 Tiger Woods ranks among the top-25 on TOUR this year in sand save percentage with a mark of 57.7. A year ago, he was third overall with a mark better than 60 percent. In 2000, Woods famously didn't hit a bunker at the British Open all week - and in 2005, he was only in the trap 3 times for the event.
MORE: Andy North Playing The Bunkers At St. Andrew's
After the jump, find out why Tiger hopes to get hot like Steve Stricker did at the John Deere, the latest Tour de France standings and we go inside the Baltimore Orioles sweep of the Texas Rangers.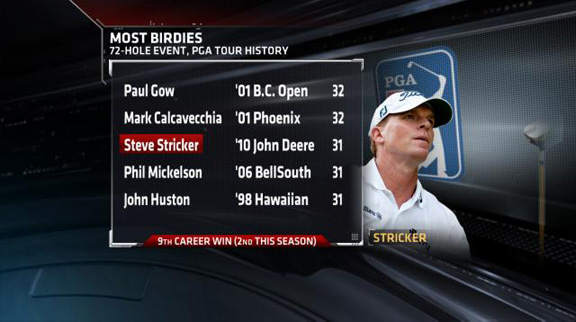 At the start of Sunday it looked like Steve Stricker would obliterate all PGA Tour scoring records for a 72-hole event. He'll have to be content with his 31 birdies, which were just 1 shy of the record for any 72-hole event in PGA Tour history. It's Stricker's 9th career win and 2nd this season.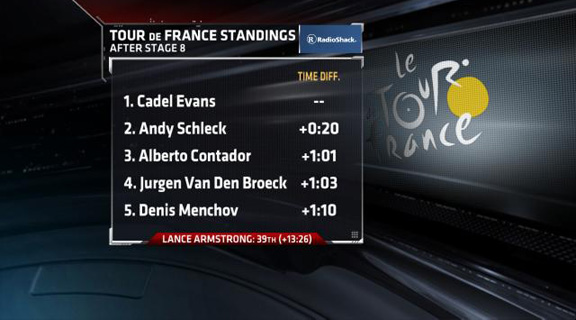 Sylvain Chavanel broke away from the pack and won the 2nd stage by nearly 4 minutes. With that performance, he now leads the Tour de France by 2 minutes and 57 seconds. 7-time champion Lance Armstrong is in 5th place, 3 minutes and 19 seconds behind.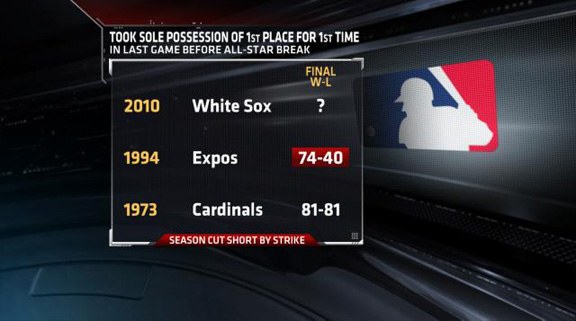 The White Sox are the 3rd team in MLB history to take sole possession of 1st place in their division for the 1st time all season in their last game before the all-star break. The other two are the 1994 Expos and the 1973 Cardinals. The Expos run was cut short by the strike, while the '73 Cardinals finished 81-81.
MLB Standings | Game Recap | Box Score | Highlight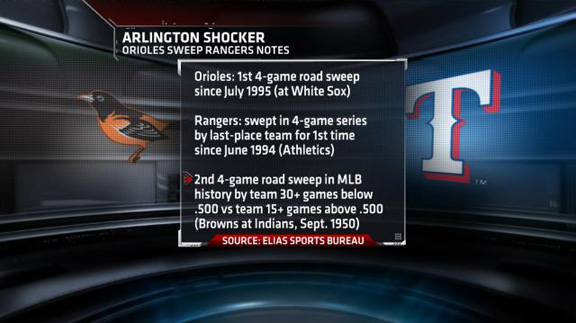 Not only did the Orioles win their first road series all season, they register their first 4-game road sweep in 15 years. In fact it was only the 2nd time in MLB history, that a team at least 30 games below .500 swept a 4-game road series against a team that started the series at least 15 games above .500. The only other time was when Browns swept the Indians in September 1950!
Game Recap | Box Score | Highlight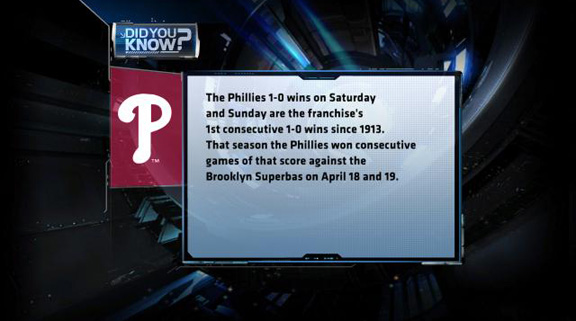 Game Recap | Box Score | Highlight
NOTE: The Elias Spors Bureau and ESPN Stats and Information group contributed to this post.