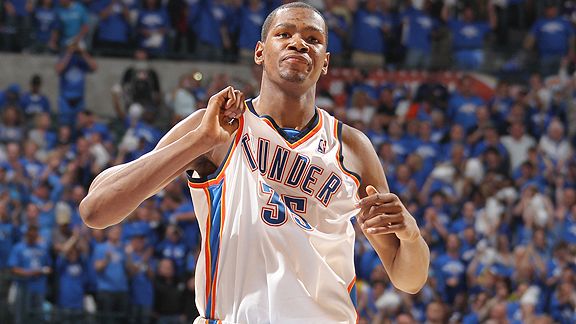 Nathaniel S. Butler/NBAE/Getty Images
"Hands off the merchandise."
Chicks may dig the longball, but apparently jersey aficionados love the K. Stephen Strasburg, who struck out 61 batters in just 42.7 innings so far this season, had the top selling jersey in all of baseball for the month of June. And as of July 1, more than 78,000 Strasburg jerseys have been sold making his the top-selling Nats jersey of all time. Not too bad for a 21-year-old who's had seven career starts.
Even more impressive is Tim Tebow's NFL jersey sales. The former Heisman Trophy winner has yet to take a snap for the Broncos but already leads the league in jersey sales based on numbers from April 1 through June 30. What does it all mean? Well, either women have fallen for Tebow's "Zebra Jersey" or sports fans believe John Gruden's QB camp has transformed Tebow into the next John Elway.
Ultimately, the young guns rule the jersey wearing world. But when making a purchase, you want to make sure you get your money's worth. The key is to find a rising star who will stay with his team long enough where you don't have to retire the uniform to your closet after just a year or two.
For those of you looking to purchase a new jersey this summer, we suggest you consult the Under-25 Jersey Power Rankings:
5. Ryan Mathews - With L.T. out of San Diego, the Chargers starting running back job is all Mathews'. He's already going in the third round of fantasy football drafts and with the Chargers poised to win their fifth straight division title, you'll see plenty of this rookie running back. He's a much safer bet than Tebow to take the NFL by storm in 2010.
4. Stephen Curry - The Warriors guard averaged 17.5 PPG in his rookie season and was a unanimous selection to the NBA's All-Rookie First Team. You can argue Tyreke Evans or Brandon Jennings deserves to be on this list, but neither of their teams went retro with their logo this offseason. We recommend pre-ordering your Curry jersey ASAP; these won't last long.
3. Steven Stamkos - Stamkos tied Sidney Crosby for the most goals in the NHL last season (51) in just his second year with the Tampa Bay Lightning. The 20-year-old center was the No. 1 overall pick in the 2008 NHL Draft and should be the centerpiece of Tampa's offense for the foreseeable future.
2. David Price - Before Stephen Strasburg there was David Price. The 2007 No. 1 overall pick leads the AL in ERA (2.42), is tied for the most wins (12) and will start the 2010 All-Star Game for the American League. Buy the jersey now, and thank us when he wins the AL Cy Young Award.
1. Kevin Durant - The 21-year-old averaged 30.1 PPG this past season to become the NBA's youngest scoring champ ever. He also finished second in MVP voting and led the Thunder to a 27-game improvement from the previous season. Oh, and during the LeBronathon, Durant signed a contract extension for another five years in Oklahoma City.