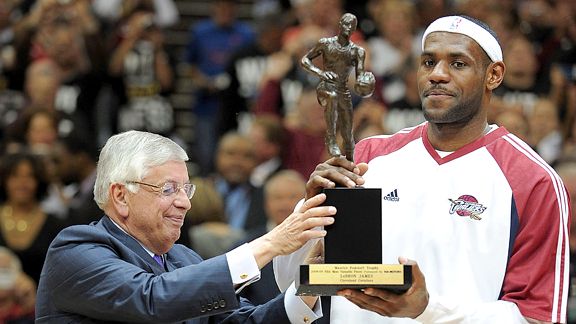 Photo: Gregory Shamus/Getty Images
"I would like to thank the Academy for recognizing my sheer awesomeness."
Big congrats to King James. His documentary, "More Than a Game," which follows LeBron and his high school teammates through the trials and tribulations of James' journey to fame, has been nominated as best documentary for the Spirit Awards, which honor independent films.
The winner will be announced March 5th - and just in case LeBron doesn't win, we suggest he borrow the stories from the other nominees, add a little creative license, and create a winning documentary for next year's award.
Here are the films he should consider:
LeBron! The Story of LeBron ("Anvil! The Story of Anvil"): As a teenager, LeBron and his friends, hailed as the semi-gods of Ohio basketball, influenced a generation and continue to attempt to fulfill their boyhood dreams (this one isn't that much of a stretch);
LeBron, Inc. ("Food, Inc."): LeBron takes the audience along for an unflattering look inside America's corporate controlled food industry. And then he dunks on its collective face. Booya!;
LeBron Country ("October Country"): A beautifully filmed portrait of an American family struggling for stability while haunted by LeBron's loss to the Orlando Magic in last season's Eastern Conference Finals;
Which Way to the NBA Finals ("Which Way Home"): This film follows LeBron, on his journey through impending free agency, as he tries to reach the podium at center court and receive the Larry O'Brien Championship Trophy from David Stern. This is a story of hope and courage (for those in New York), disappointment and sorrow (for those in Cleveland).