NL defeats AL 3-1 in 81st MLB All-Star Game
The National League's 3-1 win in the All-Star Game snapped a 13-game unbeaten streak for the American League in the game, which was the longest such streak in All-Star Game history. The last time the NL won the All-Star Game was 1996 in Philadelphia – Mike Piazza was the game's MVP after homering and driving in two runs. This time, Brian McCann was the MVP, the first Brave to win the award since 1994. He had the first bases-clearing double in All-Star Game history, and his three RBI equal the most for any player that accounted for all of his team's runs in an All-Star Game. (Carl Yastrzemski drove in each of the American League's runs in a 6–3 loss in 1975.) McCann is also the only player in the history of the All-Star Game to register three RBI with a hit that wasn't a home run. Matt Capps won, the first pitcher from a team based in Washington to win an All-Star Game since Dutch Leonard of the 1943 Senators (AL).
Game Recap | Box Score | MLB All-Star Game History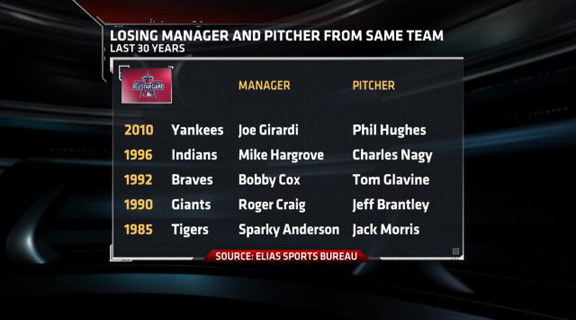 With Phil Hughes getting tagged with the loss, it's just the 5th time in the last 30 years that the losing manager and pitcher came from the same team. One potential consolation is that the last time this happened to the Yankees was 1978, a season in which they would go on to win the World Series.