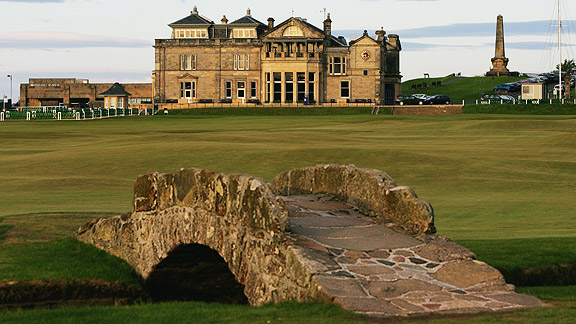 BREAKFAST OF WITH CHAMPIONS
This morning, the morning before the (British) Open Championship begins, the Champions' Challenge begins. 27 past Open champions (including Arnold Palmer and Tiger Woods) play four holes of the Old Course (specifically, the 1st, 2nd, 17th, and 18th) with the proceeds going to charity. It's a challenge similar to one we saw a decade ago to celebrate the Millennium Open - the last time we saw Sam Snead tap dance across the Swilcan Bridge. (Live coverage begins on ESPN at 10:30 a.m. ET.)
More of what's happening At This Hour, including who will pay Dan Gilbert's fine, and when we will know whether the superfight will happen (or not), after the jump.
FINE WITH HIM
David Stern may have slapped Cavs owner Dan Gilbert with a $100,000 fine, but thousands of Cavs fans apparently stepped up to dig into their pockets and help him pay. But his pockets are certainly deeper than theirs, and he says he'll pay the fine alone, but suggests that the fans instead donate to the Cavaliers Youth Fund. Because if there's one thing that he and LeBron can agree on, it's that the children are our future.
DEADLINE: FRIDAY
We'll likely know by the end of the work-week whether or not Floyd Mayweather Jr. will fight Manny Pacquiao in November. And if they don't, there are proposals out there for Pacquiao to fight Antonio Margarito or Miguel Cotto instead. Which would instead have fight fans fighting mad. "We're ready to go on with the Mayweather fight, but we have to make contingency plans," said Top Rank promoter Bob Arum. "Mayweather has until the end of the week. He could wait until the last minute. If it's Friday and it's 11 p.m., and he says we have a deal, we have a deal."