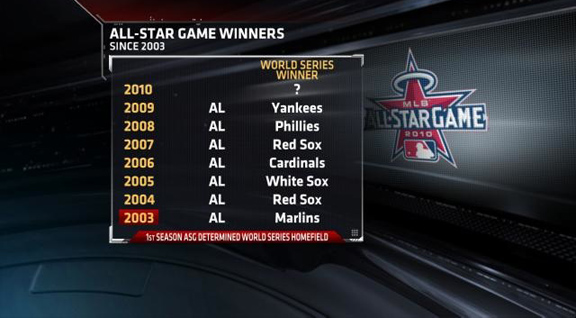 HOME FIELD ADVANTAGE: The National League won the World Series for the first time since 2003 when the All-Star game's winner first got home-field in the World Series. Since then, an NL team has won the World Series three times, while the AL has won four times.
Game Recap | SC Highlight Of The Night | MLB All-Star Game History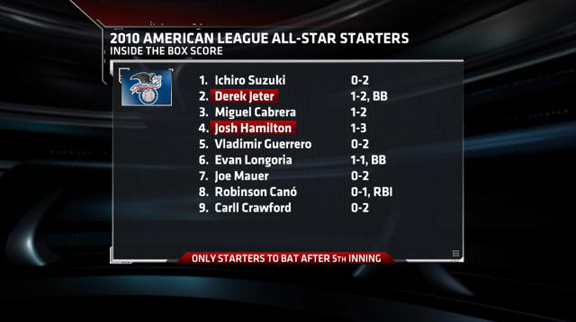 NL FINALLY SNAPS AL STREAK: Looking at the AL starters, they went a combined 4-for-17 with 1 extra base hit and 2 walks. Robinson Cano had the only RBI, a sac fly in the 5th inning, but Derek Jeter and Josh Hamilton were the only starters to bat after the 5th inning.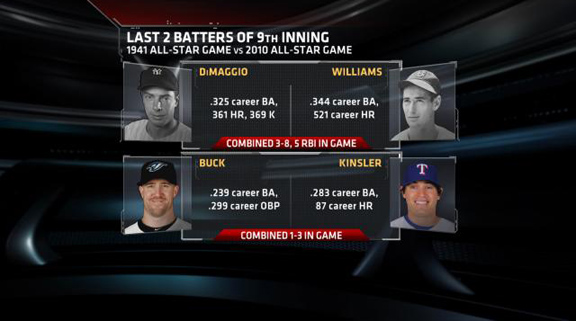 PAST AND PRESENT: How can anyone forget the walk-off homer in 1941? The AL trailed by 2 runs entering the bottom of the 9th. The last 2 batters of the game were Joe DiMaggio and Ted Williams. Last night, when the AL trailed by 2 runs in the bottom of the 9th inning, their last 2 batters were John Buck an Ian Kinsler. Unlike DiMaggio and Williams, the pair were unable to provide a magical moment for the AL. John Buck hit into fielder's choice with David Ortiz getting thrown out at second for out number two. Ian Kinsler then flied out to center, ending the game.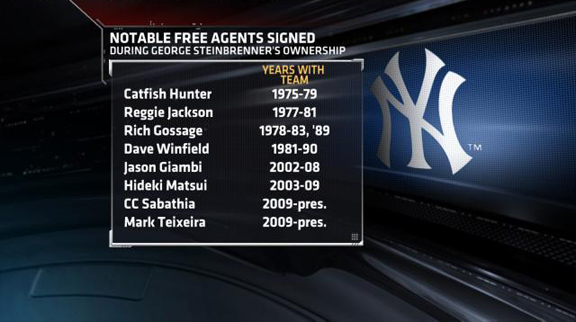 THE ONE AND ONLY BOSS: George Steinbrenner paid out around 2.5 billion dollars in payroll as owner of the Yankees. The Boss was never shy about signing free agents, including Hall of Famers Catfish Hunter and Reggie Jackson in the early years of free agency and more recently C.C. Sabathia and Mark Teixeira who helped lead the Yankees to a World Series championship last season.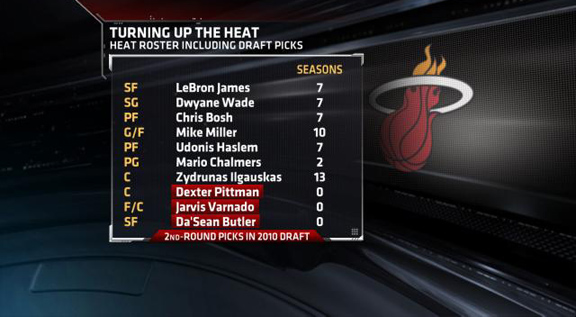 SURROUNDING THE THREE KINGS: Miami is building a nice supporting cast around the "3 Kings" so far. They re-signed Udonis Haslem and will sign Zydrunas Ilgauskas to bolster the front court. They agreed to terms with Mike Miller, who figures to get a lot of open looks around LeBron James, Dwyane Wade, and Chris Bosh, and they have Mario Chalmers returning for his 3rd season in addition to three rookies who were drafted in the 2nd round.