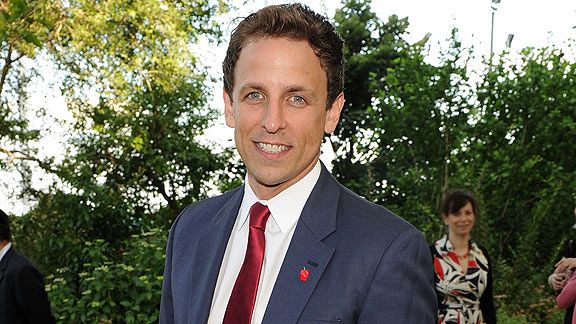 Bryan Bedder/Getty Images
"Hi, I'm Seth Meyers. I've never been in a movie with an orangutan or a zebra. Just thought you should know that."
The 2010 ESPYs kick-off LIVE tonight at 9 PM/ET on ESPN (that's right, we said LIVE!) with the wickedly hilarious Seth Meyers serving as host. Though Seth is used to bringing it Live from Saturday Night, tonight's broadcast will be his first at-bat as host of the only award show that honors Excellence in Sports Performance Yearly. So for this, the 18th year of the ESPYs, we thought we'd take a look at how Seth's selection as host is a direct connection to the show's early days.
So, the 1st and 2nd ESPYs (way back in 1993 & 1994) were hosted by Dennis Miller. Miller then, like Seth now, was widely known for his skills behind the Weekend Update desk at SNL. But years later, Miller would appear in "Joe Dirt" with Teresa Couch who was in "The Adventures of Rocky & Bullwinkle" with John Goodman. Why does this matter? Because John Goodman hosted the 3rd Espys in 1995. Do you see where we're going with this?
After this, though, the path to Seth gets a little tricky. John Goodman was in "Punchline" with "James C. Lewis" who was in "Cannonball Run II" with Tony Danza (and his orangutan sidekick, how could we forget?). Before hosting the 4th ESPYs (sans great ape), Danza appeared in "She's Out of Control" with Catherine Hicks who was in "The Genesis Code" with former senator and one-time presidential candidate Fred Thompson who appeared in "Racing Stripes" with the host of the 5th ESPYs, Jeff Foxworthy (and his zebra sidekick - is anyone else noticing a trend here?).
Also appearing in the apparently worthy "Racing Stripes" with Foxworthy was Robert Clotworthy who was in "Pulse" with Kristen Bell who was in "People Are Dead" with Norm McDonald. That's right, the 6th host of the ESPYs was also a one-time Weekend Update anchor on SNL. Making a bounce, Norm McDonald was in "People are Dead" with Kristen Bell who starred in "Astro Boy" with the host of the 7th ESPYs, Samuel L. Jackson.
Jackson is the only 4-time host of the ESPYs. He's also been in a ridiculous amount of movies, so thankfully, this starts to get a bit easier. For example, Jackson and Jimmy Smits were both in "Star Wars: Episode II - Attack of the Clones" and Smits hosted the 8th ESPYs. Wasn't that easy? Jackson returned on stage to host the 9th and 10th ESPYs and both Jackson and Smits returned on screen for "Star Wars: Episode III - Revenge of the Sith." You see what we did there?
For the 11th and 12th ESPYs, Jamie Foxx was brought in as host. Where does he fit into this you ask? Alongside Samuel L. Jackson in "The Great White Hype," that's where. A decade before his ESPYs hosting gig, Jamie Foxx was also in "Toys" with Kevin West who appeared in "She's Out of Control" with the host of the 13th ESPYs, Matthew Perry (and yes, that's the same "She's Out of Control" that starred Tony Danza - that can't be a coincidence).
Let's keep this rockin', we're almost there. One year before hosting the ESPYs, Matthew Perry starred in "The Whole Ten Yards" with Tasha Smith who also appeared in "You, Me and Dupree" with Lance Armstrong. That's right, Lance Armstrong, host of the 14th ESPYs. He's also in movies - haven't you seen "Dodgeball?" If you did, you'd know that Lance Armstrong appeared in that movie with Ben Stiller who was on "Danny Roane: First Time Director" with Jimmy Kimmel, the host of the 15th ESPYs.
Okay, to be fair, Kimmel was co-host of the 15th ESPYs with one LeBron James. But of course, LeBron is a star of one-hour TV specials, not feature films, so we'll rely on Kimmel here to keep this ball bouncing. Kimmel was in "Like Mike" with Brenda Song who friended Justin Timberlake, host of the 16th ESPYs, while appearing in "The Social Network." Timberlake had previously starred in "Black Snake Moan" with fellow golfer and ESPYs host Samuel L. Jackson, who returned for the 17th year.
Which brings us to - wait for it - Seth Meyers. Jackson starred in "Unbreakable" which featured Greg Horos who appeared in "Spring Breakdown" with, YES!, SETH MEYERS!!! Boo-ya! Done, done, and done! So what have we learned? Well, for one thing, if Tony Danza or Jeff Foxworthy have any hopes of hosting the ESPYs again, Seth Meyers needs to find an animal sidekick pronto. Which, in the end, is all the more reason to tune in tonight for the show.
h/t to The Oracle of Bacon and IMDB for making this post possible.