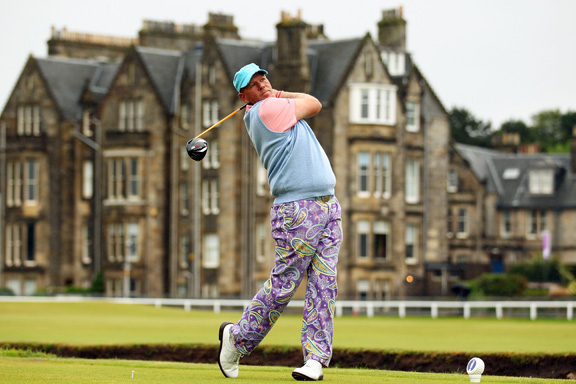 Richard Heathcote /Getty Images
OPEN FOR BUSINESS FOR THE 150TH TIME
The (British) Open Championship has returned to the birthplace of golf to mark its sesquicentennial. (Look it up.) Of course, the actual birthplace of the Open is Prestwick (of Scotland), but that place hasn't hosted the tournament since 1925. So St. Andrews (of Scotland) will have to do. Graeme McDowell (of Northern Ireland) is looking for his second straight major win (see also: 2010 U.S. Open at Pebble Beach). Since 1960, only three men have won both the Opens on each side of the pond in the same season. We call them Tiger Woods, Tom Watson and Lee Trevino. And Woods and Watson won their U.S. Opens at Pebble Beach. And Woods pulled off the Pebble Beach/St. Andrews double dip. In fact, he's won the last two Opens at St. Andrews. But the last guy to win the Open here not named Woods was named John Daly. And guess who's among the early leaders on day one...
Live Leaderboard | Championship Central | 1995 Open Revisited
More from The Rundown, including Brett Favre talking comeback, and Al Davis talking George Steinbrenner, after the jump.
"Playing another year probably isn't going to make a difference. The damage has already been done."
- Brett Favre talked to Men's Journal magazine about his plans to play (or not to play) next season. And so it begins. Again.
"I judge sports figures based on individual achievement, team achievement and contributions to the game. George was right up there with me at No. 1."
- Al Davis on George Steinbrenner. Meanwhile, Steinbrenner's family has announced plans for a private funeral service.