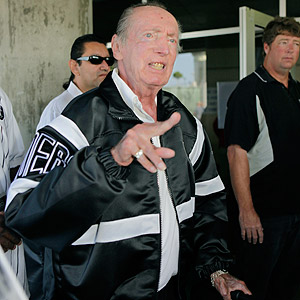 Photo: AP Photo/Paul Sakuma
The original message highlighted Al's draft strategy, but fans ran out of room after "Heyward-Bey."
Some enterprising Raiders fans have taken the initiative to pay for a billboard imploring Al Davis to seek some help. Their sign over I-880 reads:
MR DAVIS, DO THE RIGHT THING
PLEASE HIRE A GM
25,000+ FANS FROM MESSAGETOAL.COM
That's a lot more tasteful than we expected coming from The Black Hole, and gives us an idea of what other NFL fan bases would advertise for:
Lions:
MR FORD, SAVE MATT STAFFORD
DRAFT O-LINE EARLY
Saints:
MR BENSON, KEEP DAT MOJO
BAN VOODOO DOLLS 'TIL SUPER BOWL WIN
Bills:
MR WILSON, MOVE NO BILLS
KEEP BUFFALO OUT OF TORONTO
Vikings:
MR WILF, THX FOR #4
BUT DON'T FORGET THAT #28
KEEPS HIM YOUNG
Browns:
MR. LERNER,
RE: GM/COACH HOLMGREN
SEE: SEATTLE
Good show, Silver and Black. We're waiting for your public access-style viral video next.