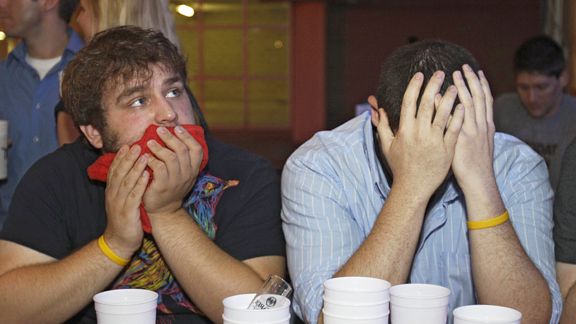 AP Photo/Mark Duncan
These Cleveland fans were distraught with LeBron's decision - that is, until they watched "Double Rainbow."
One week after Ohio's favorite son departed Cleveland for sunny Miami, Cavaliers fans are beginning to come to terms with life after LeBron. The billboards have been brought down. The number 23 jersey fires have burnt out. And rough drafts of Cavs owner Dan Gilbert's passionate ode to Comic Sans and all things not LeBron have been recycled like Craig Sager's suits at a clown college clothing drive.
Not surprisingly, Cleveland is still standing. Remember, this is the city that lost the Browns to Baltimore only to see them return again as the only modern expansion team in any major sport without purple and/or teal in their team colors. Not to say LeBron will some day return to Cleveland in anything other than a Heat jersey - that's not likely to happen. But if there's anything we've learned from our friends in the Rust Belt, it's that in times like these, it's always sunny in Cleveland.
So what, you ask, does Cleveland have to be so happy about right now? Well, for one, Moondog is still there. That's worth something, right? And that's just the beginning. Here's our quick list of who sports fans in Cleveland can celebrate now that their King has traveled to a distant land:
Jamario Moon: Yes, Jamario is not LeBron. But he's about to get a lot more playing time as the Cavs new small forward. And unlike King James, Jamario has participated in an NBA Slam Dunk Contest, placing third in 2008. A return to the NBA Slam Dunk Contest for Jamario in 2011 will give Cavs fans their first hometown participant since Bobby Sura finished last in 1997. That's a start.
Grady Sizemore: Ok, he's out for the season. Definitely not good. But Sizemore is still making his presence felt in Cleveland. Later this month, on July 24th, all fans in attendance for the Indians game against the Rays will literally get to celebrate Christmas in July with a free Sizemore Wall Catch Bobblehead. They don't have Christmas in July in Miami, and they definitely don't have Sizemore Wall Catch Bobbleheads. Point Cleveland.
Carlos Santana: A pure, offensive-minded catcher doesn't come along every day. And when one does, he usually doesn't share his name with a legendary guitar god. While the predictable yet fun nicknames of "Smooth" and "Supernatural" were never far behind, the 24-year-old rookie is just getting started. Which means we have plenty of time to work on his nickname. Can we get a "Black Magic Catcher/Gypsy King" or "Oye Wahoo Va" anyone?
Rick Vaughn: In case you haven't heard, Major League is coming back (and thankfully this time, not to the minors). And if Charlie Sheen's triangular buzzcut doesn't make the fans in Cleveland smile, then - seriously - all hope is lost. Cleveland is much too strong, and Charlie Sheen's hair is way too ridiculous, to let that happen.