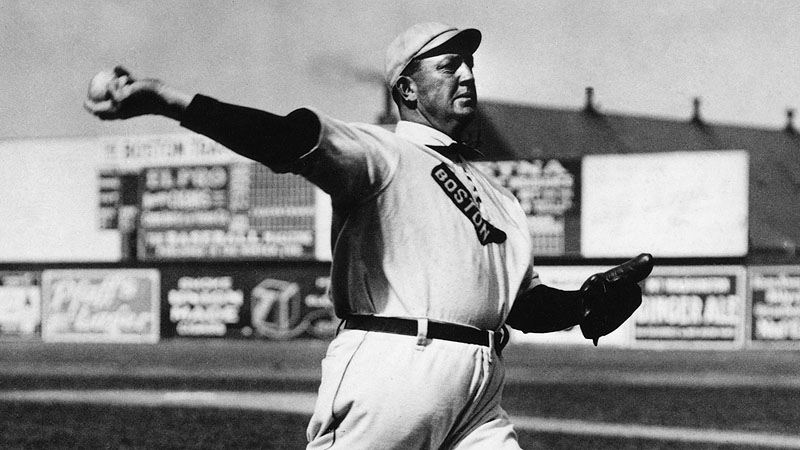 Mark Rucker/Transcendental Graphics, Getty Images
Smile pretty, Cy. Your mug's gonna be all over the history books.
July 19, 1910: Today, Cy Young set the bar for pitching excellence in the Major Leagues by becoming the first pitcher to win 500 games in his career. He set the bar almost too high, it would seem. It's been 100 years to the day after Mr. Young's history-making win, and he is still the only pitcher to have won 500 games in his career.
The 43-year-old Young, then playing for Cleveland, got win No. 500 in a 5-2, 11-inning win over Washington. He had a 2-1 lead after eight solid innings, but let it get away from him in the bottom of the ninth. Washington scored the tying run and put the go-ahead runner on third with one out, but Young stranded the runner. Cleveland helped Young's cause with three runs in the 11th, and Young entered the history books.
No other Major League pitcher has reached the 500 win mark. Walter Johnson of the Senators follows Young (511) on the all-time wins list with 417 while Grover Alexander (373 wins with the Phillies, Cubs and Cardinals), Christy Mathewson (373 wins with the New York Giants and Reds) and Jim Galvin (365 wins with six different teams) round out the top five.
A year later, on July 29, 1911, Young had appeared in his last gave with Cleveland, and the team gave him his unconditional release on August 15. He re-signed with the Boston Nationals, but a sore arm bothered him through the winter of 1912. In August, Young retired after 22 seasons and 511 career wins. "My arm will no longer do the work that was so easy," he said.