Cubs 11, Phillies 6
Roy Halladay allowed 6 runs, including 4 in an inning (2nd time this season he's allowed 4 in an inning). He's had 3 starts this season in which he's allowed 6+ runs (only had 2 in 2008/2009 combined). Marlon Byrd was twice hit by a pitch (Halladay had only hit 2 batters all season coming into Sunday). Byrd's 16 HBP are the most by a Cub since Frank Chance had 17 in 1905. Derrek Lee had a 3-run bases-loaded double, and he is 13-22 with 5 BB with bases loaded since 2009 (.590 BA, 2nd-best in MLB behind Torii Hunter). Alfonso Soriano homered against Halladay for the first time since March 31, 2003 (2nd career HR vs him). Ryan Howard's 243rd HR tied Chuck Klein for 4th-most in Phillies history. The Cubs have won 4 of 6 overall. Phillies have lost 3 of 4 overall and 7 of their last 9 road games.
MLB Standings | Game Recap | Box Score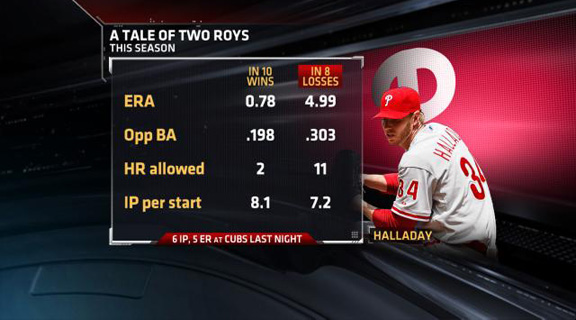 Halladay has had an interesting season thus far. In his 10 wins this season, he has an ERA below including his perfect game on May 29th. But in his 8 losses his ERA is nearly 5.00 with opponents hitting over .300.