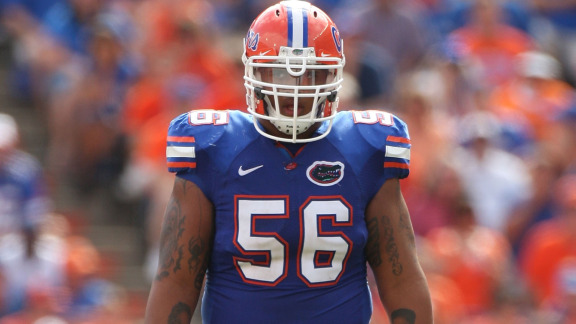 Sam Greenwood/Getty Images
Florida, NCAA Investigating Possible Violation
Both the University of Florida and NCAA officials are investigating a rules violation that allegedly occurred last December. The claim states that a representative of an agent paid Maurkice Pouncey $100,000 between the Gators' loss in the SEC championship game and their season-ending Sugar Bowl victory.
Childress Meets Favre in Mississippi
Minnesota Vikings head coach Brad Childress was in Hattiesburg on Monday, meeting with his (maybe) quarterback. Childress was seen with Brett Favre at the University of Southern Mississippi's 7-on-7 passing camp for area high school athletes. The coach didn't comment on the visit but did say, "You can fill in the blanks."
Wade Apologizes for World Trade Reference
Dwyane Wade apologized for using the words "World Trade" while answering a question about the upcoming Miami Heat season. Wade claimed his words were either reported inaccurately or taken out of context. Wade was quoted as saying the hype around the team would cause the media to react "like the World Trade Center went down again" if the Heat lost a few games.
Kovalchuk Staying in New Jersey
Ilya Kovalchuk is staying with the New Jersey Devils after all. The team said Monday that the biggest prize of the NHL free agent market agreed to a 17-year, $102 million contract. The Los Angeles Kings, New York Islanders, Devils and a Russian team made the biggest runs at Kovalchuk since free agency started on July 1.
John Wall Wins Summer League Award
John Wall hasn't played his first NBA regular season minute yet, but he already has an award on his mantle. After leading the Las Vegas Summer League in points (23.5) and assists (7.8) per game, Wall was named its Most Outstanding Player on Monday. The No. 1 overall pick's former college teammate DeMarcus Cousins was also honored as the rookie of the month.
Owens May Have a New Team Soon
Terrell Owens is still a free agent, but that may not be the case for long. At least not according to his agent, Drew Rosenhaus. Rosenhaus texted ESPN NFL Insider Adam Schefter on Monday saying he was "very confident" a deal for Owens would be in place "within the next few weeks." Teams have been reluctant to sign the 6-time Pro Bowler, worrying about his past issues with team chemistry.
The Padres and Bud Black have agreed to a three-year contract extension which will have the manager in charge through 2013. Black is in his fourth season, and has guided to the Padres to first place in the NL West.
Instant Replay Not on FIFA's Agenda This Week
Soccer fans will have to wait until October to see if FIFA will start using goal line video technology. Soccer's governing body confirmed that its rule-making panel will not discuss the issue at its meeting this week. The International Football Association Board meets on Wednesday but FIFA says "the only point on the agenda" is the continuing experiment with extra assistant referees behind the goals.