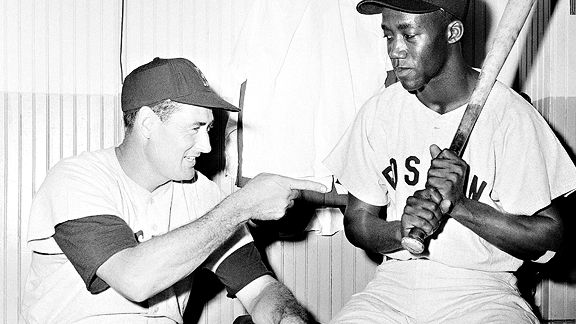 AP Photo/Ed Maloney
"Ted, that batting grip joke is getting so old."
July 21, 1959: It began after a fairly routine eighth-inning single from Red Sox first baseman/outfielder Vic Wertz off of Chicago White Sox starter Dick Donovan. Then Boston manager Billy Jurges swapped Wertz for pinch runner Elijah "Pumpsie" Green. With that unassuming substitution, the Red Sox became the last team in baseball to integrate, 12 years after Jackie Robinson made his debut as the first African-American player in the Majors. Green would stay in the game as a shortstop, but did not record an at-bat.
Green's personal call-up to the Red Sox was a long time coming. He'd been languishing on farm teams for seven years, four within Boston's organization. His continued deployment with the Sox's Triple-A farm club in Minneapolis spurred the NAACP to launch a protest. Meanwhile, the Massachusetts Commission Against Discrimination announced it would hold a public hearing to determine whether or not the Red Sox were guilty of racial bias in the decision. Boston's general manager, Bucky Harris, prepared a statement that insisted player personnel were chosen "regardless of race, color, or creed," and that "the charge that the decision to option Pumpsie Green to Minneapolis was prompted by bias has no foundation in fact."
Regardless of the front office's public statements, the team called up Green shortly thereafter. He would go on to bat .233 for the rest of the season, and play four more years with Boston until he was traded to the Mets after the 1962 season.
For more on the Pumpsie Green controversy, and the Red Sox's history with integration, check out Howard Bryant's "Shut Out: A Story of Race and Baseball in Boston."