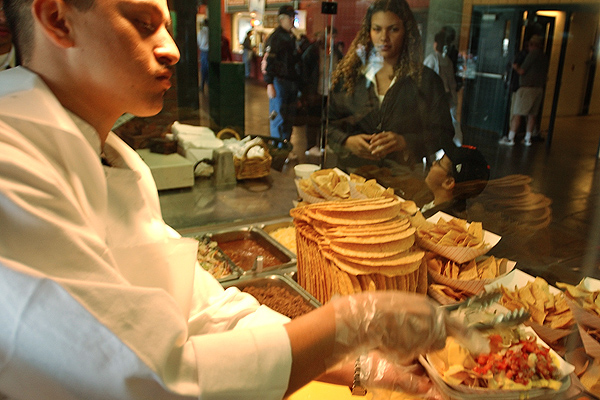 AP Photo/Ben Margot
Mmmmmm, the allure of giant troughs of ballpark food.
Sports Illustrated had an article online Monday about the "growing trend" of all-you-can-eat sections of Big League baseball parks. The story noted that dietitians are none too pleased with these baseball buffets, as they lead people to overeat.
Gorging yourself on food just because it's there is not good - we totally get that (except for Joey Chestnut, who seems to have figured some system out). But what if the ballparks took some measures to counter the evils of the all-you-can-eat package? Some already have the right idea – the Rays' Tropicana Field has a rock climbing wall for a cardio-burning good time. What else can be done to balance out the free food deals? Indulge us, won't you ... .
Fitness-Promoting Promo Nights
If a stadium's going to have an all-you-can-eat section, it ought to re-think its promo night giveaways. Instead of bobbleheads, commemorative pins and schedule magnets, may we suggest Shake Weight Promo Night? A ticket gets you the magical as seen on TV toning device and a DVD instruction guide from a member of the team. Not a fan of Shake Weights? Belly Burner belts, perhaps? Or, on throwback nights, ThighMasters?
Location, Location, Location
All-you-can-eat sections should come with all-you-can-handle cardio workouts, too. It's simple, just put the buffet and the seats at the opposite end of the stadium from each other. If possible, up many flights of stairs (no escalators allowed!) Fans can eat all the hot dogs they want, provided they want to huff and puff their way through the crowds to get them.
Fare Change
Who says all-you-can-eat means all-you-can-eat hot dogs and nachos? Lightening up the fare offered at these buffets would go a long way in upping their healthiness quotient. Citizens Bank Park in Philly has the right idea. It's been named the most vegetarian-friendly ball park by PETA for three straight years now and offers black-bean burgers, mock crab cake salad, Philly faux-steaks and faux chicken sandwiches. Can we interest anyone in some Fenway Field Greens? Or some cottage cheese in a Cubbies cap? The possibilities are endless.
Crowd Control
Every buffet must have someone keeping an eye on things, right? So people aren't bringing in Tupperware from home and filling it with that delicious bright orange liquid nacho cheese sauce? Well, it would be no trouble at all to have fitness and healthy lifestyle guru Jillian Michaels (of "The Biggest Loser" fame) be the one manning the buffet, right? We'd like to see a fan try and over indulge while she's the one spooning out the sauerkraut.