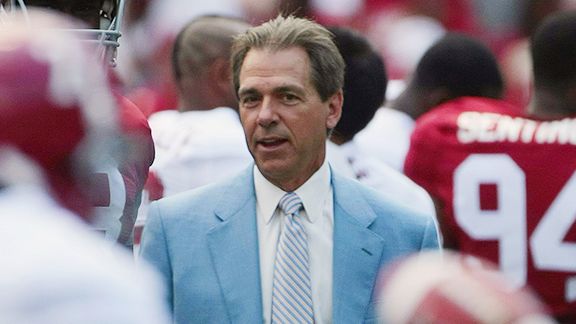 Dave Martin/Getty Images
ALABAMA OFFICIALS INVESTIGATING POTENTIAL RULES VIOLATION:
University of Alabama officials are investigating whether junior defensive lineman Marcel Dareus broke NCAA rules by attending an agent's party in Miami's South Beach earlier this summer, multiple sources told ESPN.com. Dareus, ranked as the No. 7 prospect for the 2011 NFL draft by ESPN analyst Mel Kiper, is the latest prominent college football player to be entangled in an evolving NCAA investigation into illegal contact and conduct by sports agents. Sources told ESPN last week that NCAA investigators have interviewed North Carolina players, including defensive end Marvin Austin, about attending the party. South Carolina tight end Weslye Saunders also confirmed to ESPN on Sunday that he recently spoke with NCAA investigators about the same party. The NCAA is trying to determine who paid for the players' transportation to Miami and lodging, food and entertainment while they were there. Saban, the former Miami Dolphins coach also had this to say about the situation:
"What the NFL Players Association and the NFL need to do is if any agent breaks a rule and causes ineligibility for a player, they should suspend his license for a year or two. I'm about ready for college football to say, 'Let's just throw the NFL out. Don't let them evaluate players. Don't let them talk to players. Let them do it at the combine.' If they are not going to help us, why should we help them?"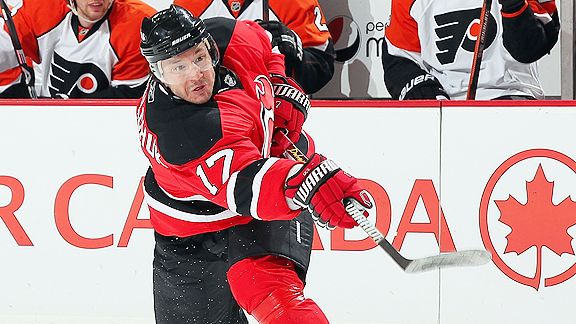 Jim McIsaac/Getty Images
DEVILS KNEW KOVALCHUK WOULD BE VOIDED:
Further muddying the waters surrounding the league's shocking rejection of the Ilya Kovalchuk deal, a source told ESPN.com's Scott Burnside Wednesday morning that New Jersey Devils president and GM Lou Lamoriello was aware of the league's plans to deny the deal prior to a press conference announcing the signing held in Newark Tuesday afternoon. The press conference, attended by Lamoriello, Kovalchuk, head coach John MacLean and a number of Devils players, went ahead without any suggestion the deal was in jeopardy.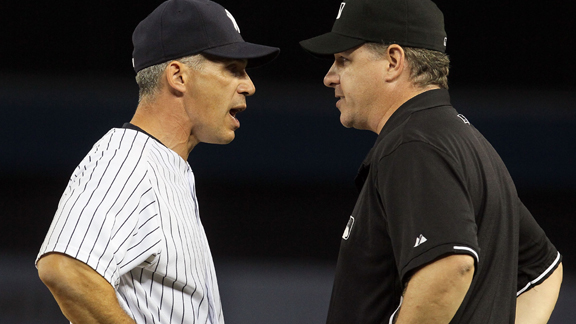 Jim McIsaac/Getty Images
UMPS SET SEASON HIGH WITH SEVEN EJECTIONS:
Last night Major League Umpires set a season high with 7 ejections, the most in a single day this season, and it might have cost the Dodgers a victory. Case in point, Dodgers hitting coach Don Mattingly, who took over after the separate ejections of manager Joe Torre and bench coach Bob Schaefer, went to the mound for a chat with all-star closer Jonathan Broxton (3-2) before Torres came up with the bases loaded. Mattingly took a few steps back toward the dugout before turning around and saying something to Broxton. Giants manager Bruce Bochy came out to protest to plate umpire Adrian Johnson that Mattingly's about-face constituted a second trip to the mound. The umpires huddled and agreed, and Broxton had to leave the game. Mattingly was forced to summon struggling George Sherrill, who promptly served up Torres' two-run double on an 0-1 pitch that gave the Giants a 6-5 lead. Here is he complete list of the 7 lucky managers who got tossed Tuesday:
New York Yankees' manager Joe Girardi

Pittsburgh Pirates' manager John Russell

Kansas City Royals' manager Bob Schaefer

Los Angeles Dodgers' SP Clayton Kershaw and manager Joe Torre

Oakland Athletics' CF Coco Crisp

Boston Red Sox pitching coach John Farrell
NOTE: The Associated Press contributed to this report