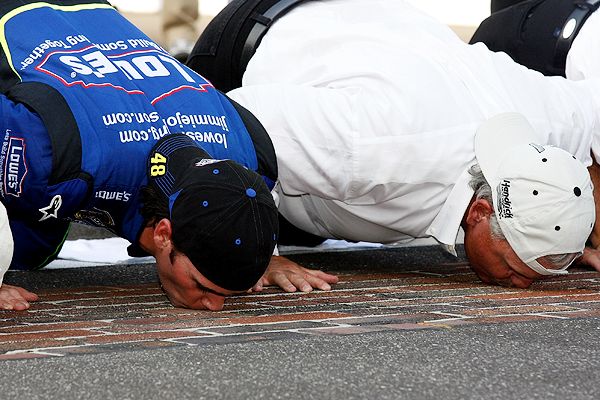 Geoff Burke/Getty Images
Awww, come on Jimmie! Who knows where those bricks have been.
Smell that everyone? It's the scent of football in the air. That's right, we're slowly creeping to the start of the NFL season, with some players reporting today. Ya and hoo. Add in a big-time NASCAR race, a milestone home run watch and a long-awaited Hall of Fame induction, and you have yourself a weekend worth online shopping for. Yup, ladies and gents. It's For Sale Friday.
A-Rod 600 Home Run Watch
Kansas City at New York
Tonight at 7:05 ET
Alex Rodriguez, who is sitting on 599 career homers (he hit one last night), could become only the seventh player in MLB history to join the 600th home run club any at-bat now. Will he do it tonight against Brian Bannister and the Kansas City Royals? Bannister's giving up about one dinger an outing, so … maybe? If you're going to be staying up late watching A-Rod's quest for 600, you might want to invest in some night lights. Perhaps some home run night lights from every team A-Rod's hit one of his 598 homers for (the Mariners, the Rangers and the Yanks)? And, as an extra bonus, the lights will make the night less scary!
NFL Training Camps Kick Off
Today – Aug. 1
The Cleveland Browns rookies report today. The whole Dallas Cowboys squad reports tomorrow. And all other NFL players will be showing up to their teams' respective camps over the next week (unless they're huddled at home, holding out). While you may not be able (or willing) to participate in an football camp, you can wear your very own Ray Finkle Football Camp jersey. Laces out!
Brickyard 400
NASCAR Sprint Cup Series
Sunday at 1 ET on ESPN
While Jimmy Johnson gets ready for his "Survivor" debut, Jimmie Johnson is going for his third straight Brickyard title. But will the Brad and Carl drama upstage JJ's quest? To be determined. One thing is for sure, though. If you're hosting a Brickyard party, parking spots will be at a premium. So how do you make sure your true NASCAR fan friends don't have to walk too far to the house? Invest in some (novelty) traffic signs, obviously.
Baseball Hall of Fame Inductions
Clark Sports Center
Sunday at 1:30 ET
Andre Dawson will finally be inducted into the Hall of Fame after nine long years on the ballot. At least he'll get the big moment to himself, as The Hawk is this year's only player elected by the Baseball Writers' Association of America (manager Whitey Herzog and umpire Doug Harvey are among the others to be inducted). How should you celebrate The Hawk's induction? Certainly not by wearing a cap, because that's just controversial. So how about by buying a taxidermied hawk for your coffee table? Yeah. That seems about right.