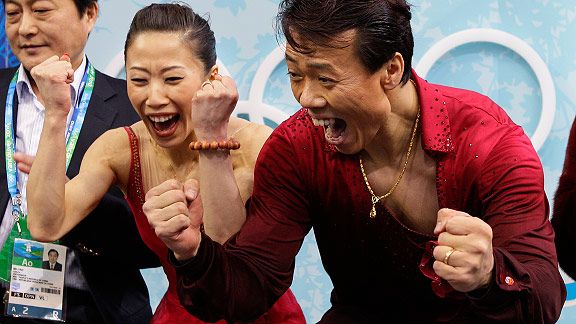 AP Photo/Amy Sancetta
Shen Xue and Zhao Hongbo find out someone bought the cappuccino machine on their gift registry.
In a heartwarming coda to one of the more warm-and-fuzzy stories of the 2010 Winter Olympics, China's gold medal Pairs Skating partners Shen Xue and Zhao Hongbo are getting married. They'd gotten engaged all the way back in 2007 after their win at the world championships (Zhao proposed on the ice, which makes us wonder how extra cold it would have been if Shen hadn't said yes). The couple had hung up their skates, only to un-retire for Vancouver 2010 and topple Russia from its 46-year grip on their sport. Although they've been officially hitched in the eyes of the state since then, tradition demands a party. So they're throwing a "real" wedding ... on ice! The three-years-late gala will be called "Artistry on Ice" and feature some of the couple's pals from the world of skating. No word on who'll broadcast the event, but it's sure to be the event of the season.
So how do you go about planning such an event? Here are our required elements we expect to see:
1. Guests will receive classy lycra and rhinestone-covered wedding invitations.
2. The procession will probably be something from "Carmen."
3. At some point in the ceremony, Scott Hamilton will break down and cry.
4. Johnny Weir will be hanging out with the Russians by the caviar bar, doing his best interpretation of a swan ice sculpture.
5. Bad boy of skating Evgeni Plushenko will grace the couple of the hour with a special platinum medal-worthy performance. He's also available to style your wedding mullets in advance.
6. The couple will cut their Triple Lutz cake using only their feet.
7. Mao Asada and Kim Yu-Na must make a grab for the bridal bouquet on the ice at full speed.
8. At some point during the reception, Evan Lysacek will publicly declare whether he's a skater or a dancer. We'll know the answer by the number of sequins present on his outfit (or lack thereof).