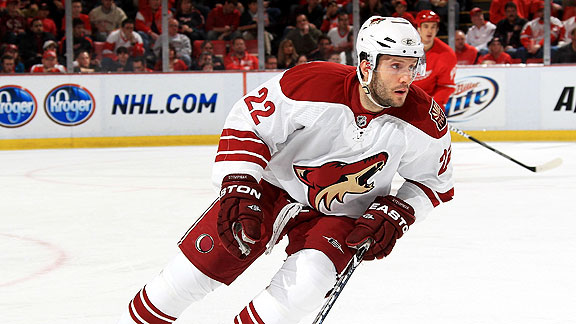 Dave Reginek/NHLI/Getty Images
Back in 1996, a Jet morphed into a Coyote.
Coping with the relocation of your favorite sports franchise is no easy task. Some fans abandon their teams, others go along for the ride, but apparently the diehard-iest of them all call 911 and urge the police to bring back their beloved team.
After 14 years of watching the Winnipeg Jets disguise themselves as the Phoenix Coyotes, a 33-year-old resident of Lundar, Manitoba called the local authorities and demanded they bring the Jets back to their original home. "He began the conversation by saying he wanted the Jets back. He was quite upset about it," a justice source told the Winnipeg Free Press Wednesday. The dispatcher told the caller she couldn't help him and hung up. The Manitoba Maniac called back and insulted the 911 operator and the police charged him with public mischief, false messages, harassing phone calls and obstructing justice. We love the Jets logo as much as the next fan, but badgering the police is the wrong way to go about making it appear again on billboards and jerseys.
Losing your favorite sports team is a traumatic experience and it makes perfect sense to do everything in your power to bring them back home. But before you make a poor decision, consult our team-by-team guide for the most effective ways to bring back your franchise.
Seattle SuperSonics (now the Oklahoma City Thunder): Do Not climb to the top of the Space Needle and threaten to jump into a vat of Starbucks coffee. Do dress up as Squatch and sit courtside at every Thunder game until you receive national recognition.
Hartford Whalers (now the Carolina Hurricanes): Do Not rent a yacht and go whale hunting off the coast of Connecticut (you won't find many whales there). Do form your own band and tour the country performing Brass Bonanza, the theme song of the Hartford Whalers.
Houston Oilers (now the Tennessee Titans): Do Not challenge Chris Johnson to a foot race with the location (Houston or Nashville) of the Titans on the line ... nobody can win that race. Do buy an autographed Warren Moon Oilers jacket and wear it to work every day until the stench reaches Nashville and the Titans agree to depart back to Houston.
Montreal Expos (now the D.C. Nationals): Do Not burn Stephen Strasburg jerseys; it's unsafe and there's way too many jerseys to account for. Do rally the entire city of Montreal to name every one of their children Andre Dawson _____ (insert last name).
If we didn't mention your favorite team, please let us know who we're missing and the best way to bring them back home.