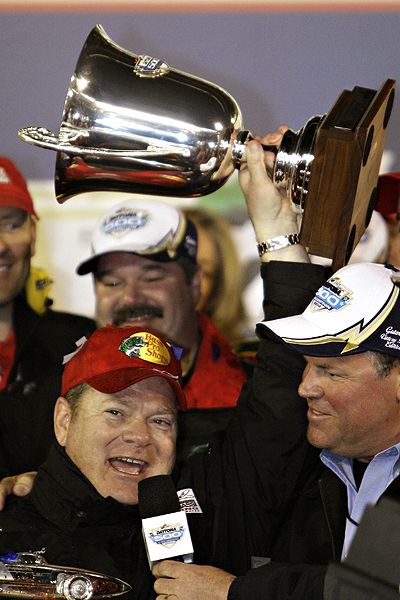 AP Photo/John Raoux
"I am soooo filling this thing with chocolate milk."
Racecar owner Chip Ganassi will be going for a rare feat at NASCAR's Brickyard Sunday – the motorsports version of the Triple Crown. A Ganassi driver, Jamie McMurray, won the Daytona 500 back in February and another one, Dario Franchitti, won the Indy 500 in May. That made Ganassi the first owner to win both races in the same year and put him in position to be the first to win racing's elusive trifecta.
Ganassi, who has three Indy 500 wins, has never had a NASCAR victory at the Indianapolis Motor Speedway. But Ganassi drivers McMurray and Juan Pablo Montoya, who dominated the Brickyard last season but were put out of contention by a pit road speeding penalty late in the race, give Chip a shot.
All this talk about Ganassi has made us realize two things: Triple Crowns are awesome, and they need to happen more. Sure, there's horse racing's triple crown (winning the Kentucky Derby, the Preakness and the Belmont), but the last time that happened was when Affirmed pulled it off in 1978. And baseball's triple crown (leading your league in home runs, RBI and batting average), but the last guy to win that was Carl Yastrzemski in 1967 (though Miggy Cabrera is making a push this year). There are also a few in sports like golf and alpine skiing that no one seems to ever win. But all of these are very few and very far between. So we have some updated Triple Crowns to award. To whom and for what? Stay tuned, friends.
The Triple Crown of alpine skiing does exist – it's winning World Cup titles in the slalom, the giant slalom and the downhill all in one season. But that's only happened twice, and not since 1968. So we're handing out the Alpine Skiing Exposure Triple Crown (appearances on a major magazine cover, a cereal box and a major network primetime drama) to one Lindsey Vonn. Congrats, Mrs. Vonn. You've made your country proud.
There's no Triple Crown for soccer's World Cup, but there definitely should be. So we're making one up. And we're giving it to Diego Forlan, who topped each of the following categories at the 2010 FIFA World Cup: most goals, most luxurious locks of hair, and most defined abdominal muscles. Well played, sir.
Dwight Howard has our updated NBA Triple Crown locked up for sure. And our updated NBA Triple Crown title is, of course, leading the league in blocks (2.78 per game), rebounds (13.2 per game), and quality of Stan Van Gundy impressions. Congratulations, Dwight. For your efforts, you get Chris Paul to come and play with you. Maybe.
Oh, and while we're at it, Ron Artest gets our alternate updated NBA Triple Crown by winning an NBA championship, then going out to dinner in his uniform, going to a club in his uniform and doing a radio interview in his uniform (the next morning!) We believe (and kind of hope) he'll be the only one to ever accomplish this feat.