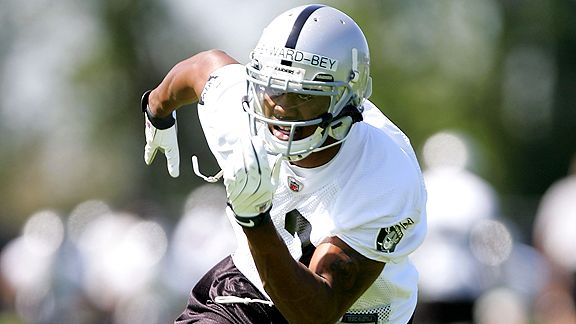 Ezra Shaw/Getty Images
Take a long, hard look at the 28th highest paid athlete in America.
The weight of the Bay Area is finally off Barry Zito's shoulders as Darrius Heyward-Bey sits atop the list of California's highest-paid athletes. The No. 7 overall selection in the 2009 NFL Draft will earn $21,505,000 this year making him the 28th highest-paid American athlete in 2010 according to Sports Illustrated's Fortunate 50 list. Not a bad deal for a wideout who caught nine balls for 124 yards and one touchdown in his rookie season with the Raiders, right?
For those of you keeping score at home, four-time NFL MVP Peyton Manning will earn $5,705,000 less than Heyward-Bey this season in salary. However, Manning does make up for the deficit with $15 million in endorsements. Of course, DHB isn't the only enigma on SI's top 50 list, but would it be any fun if we told you all the other shockers?
To make this as entertaining as possible, we've created a guessing game. Take a look:
1. I earned $61,660,757 in 2009 making me the second highest-paid athlete in America. I play the same sport as the top paid athlete and I have a sweet tooth for donuts. Who am I?
a) Kobe Bryant
b) Tom Brady
c) Phil Mickelson
d) Derek Jeter
You get the hang of it? That was an easy one. Now it gets hard ...
2. I am a former AP Defensive Rookie of the Year and have made the Pro Bowl on three occasions. In 2010 I will earn $24,975,000 making me the NFL's highest-paid defensive player this season and the 19th highest-paid athlete in the U.S. Who am I?
a) Albert Haynesworth
b) Charles Woodson
c) Terrell Suggs
d) DeMeco Ryans
3. I was the second highest-paid player in the NBA last season, but I'm taking my talents elsewhere this year. If you ask me, paying me $23,016,000 (plus $250,000 in endorsements) this season is a steal! I am the 22nd highest-paid athlete in America earning $23,266,000 this season. Who am I?
a) Chris Bosh
b) Amar'e Stoudemire
c) Jermaine O'Neal
d) Carlos Boozer
4. Thankfully, they aren't paying me based on my Home Run Derby output a few weeks back (I only hit two homers!). If you buy a ticket to see MLB's home run leader, you can also watch me. I'm earning $21,250,000 this season, making me No. 30 on America's highest-paid athletes list. But don't tell Albert Pujols that; he's only making $21,000,000 this year. Who am I?
a) Matt Holliday
b) Nick Swisher
c) David Ortiz
d) Vernon Wells
5. I was a former No. 1 overall selection in the NFL Draft and you know what that means? Huuuuuuuuge money! I mean, I'm just happy to be in the NFL and I'll do whatever it takes to win. You probably won't believe me if I told you, but I'm the 11th highest-paid athlete in America and I earn more than Tom Brady. I'm set to earn $27,650,000 in 2010. Who am I?
a) Alex Smith
b) Matthew Stafford
c) Eli Manning
d) Carson Palmer
6. Yes, Vince Carter is my third cousin. And yes, Vinsanity will earn $21,123,250 next season. But, I got him beat ... I'm gonna earn $22,733,124 in 2010 making me this country's 24th highest-paid athlete even though I only played in 30 games last season. Who am I?
a) Shaquille O'Neal
b) Michael Redd
c) Greg Oden
d) Tracy McGrady
7. As long as the Jets don't break the bank on Darrelle Revis this offseason, I'll be the highest-paid cornerback in the NFL in 2010. I'm still a bit upset about my drop in Madden rating last year, but the $18,575,000 I'm gonna make this season will ease my pain. I'm No. 40 on the highest-paid athletes list. Who am I?
a) DeAngelo Hall
b) Nnamdi Asomugha
c) Champ Bailey
d) Asante Samuel
Here is Sports Illustrated's Fortunate 50 list and the answer key:
2) Terrell Suggs
3) Jermaine O'Neal
4) Vernon Wells
5) Matthew Stafford
6) Tracy McGrady