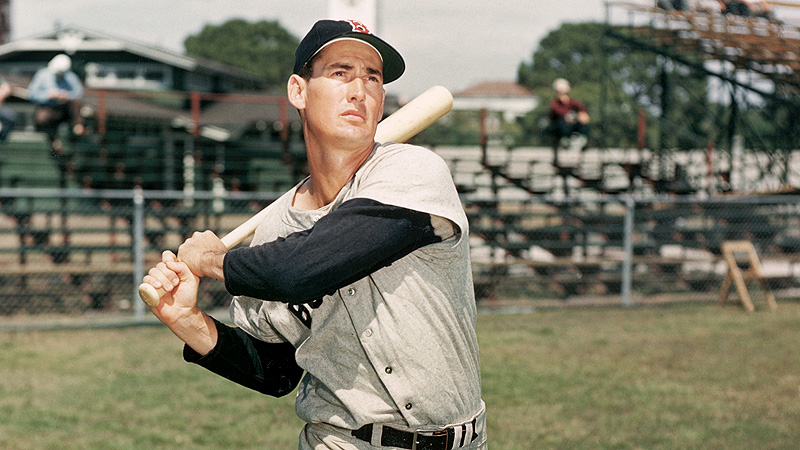 Photo File/MLB Photos via Getty Images
Teddy Ballgame was also a decorated Marine pilot, renowned fisherman and heckuva nice guy.
July 25, 1966: For a speech that lasted less than three minutes, Ted Williams sure knew had to pack a wallop. Sharing the day with fellow Hall of Fame classmate, beloved manager Casey Stengel, "The Kid" showed displayed true humility and grace with one of the most memorable induction addresses in sports history.
The Red Sox outfielder left the game with a home run shot in his final at-bat in 1960, his .344 batting average and 521 home runs (despite nearly five years of military service) making him a shoo-in for voters. For all his unease with the press and his lack of championship rings it would have been easy for Williams to betray some bitterness about his career (something even certain winners have a hard time of doing). Instead, he chose to thank the powers, and people, that gave him the opportunity to play. As his own act of generosity, he made a plea for the assembly to include other greats who hadn't been as fortunate:
"Baseball gives every American boy a chance to excel. Not just to be as good as anybody else, but to be better. This is the nature of man and the name of the game ... and I hope someday Satchel Paige and Josh Gibson will be voted into the Hall of Fame as symbols of the great Negro players who are not here only because they weren't given the chance."
It was the first time a Major League player of Williams' stature had spoken on behalf his Negro League colleagues. Satchel Paige was elected to the Baseball Hall of Fame in 1971. Josh Gibson followed in 1972.