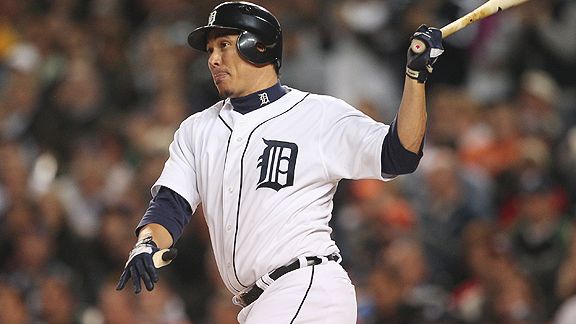 Leon Halip/US Presswire
Ordonez to Miss 6-8 Weeks With Broken Ankle
The Detroit Tigers suffered a huge blow Saturday, losing outfielder Magglio Ordonez to a broken ankle. Ordonez injured himself trying to score from first on Miguel Cabrera's third-inning double. He's expected to miss 6-8 weeks.
Sources: Rams Intensify Owens Talks
Free-agent Terrell Owens may soon be employed, according to ESPN NFL Insider Chris Mortensen. The St. Louis Rams may offer "T.O." a contract as early as Monday. The team believes Owens could help take pressure off its young receivers, as well as loosen up opposing defenses from focusing on running back Steven Jackson.
Kiffin's Approach Disappoints Fisher
Tennessee Titans coach Jeff Fisher isn't pleased with Lane Kiffin. The USC coach hired running backs coach Kennedy Pola away from the Titans to serve as his offensive coordinator, and reportedly told Fisher, after the fact. "...I am very disappointed in the lack of professionalism on behalf of Lane, to call me and leave me a voicemail after Kennedy had informed me he had taken the job. It is just a lack of professionalism." Kiffin responded by saying, "We realize the timing of this isn't perfect for all parties, but this is a great opportunity and promotion for Kennedy."
Former Steelers Coach Bill Cowher Responds to Wife's Death
Kaye Cowher, wife of former Pittsburgh Steelers coach Bill Cowher, died Friday after battling skin cancer. Kaye was 54 years old. In a released statement Bill Cowher said, "We would like to thank everyone who has kept our family in their thoughts and prayers and for those who have reached out to express their condolences. It is clear that Kaye touched a lot of lives."
Giants Sign Linebacker Bulluck
Free-agent linebacker Keith Bulluck is returning to native New York. The 33-year-old signed with the Giants Saturday, according to ESPN.com's Tom Friend. Bulluck, the former Tennessee Titans pro bowler is coming off ACL surgery seven months ago.
Is it Ready, Set, Go for Welker?
When the New England Patriots open camp July 28th, Wes Welker won't be sitting out, according to reports. The 29-year-old is expected to participate in all drills – contact included – with his teammates, according to an NFL source. Welker tore his ACL and MCL in the team's regular season finale in Houston Jan. 3.
Huggins Ok After Breaking Ribs in Fall
West Virginia coach Bob Huggins is recovering from an accidental fall that caused four broken ribs Friday. Ole Miss coach Andy Kennedy, a former assistant of Huggins' at Cincinnati, said via text message to ESPN.com that Huggins' fall was not related to any heart problem.
Tracy McGrady's looking for a team to join, and it could be the Bulls. "T-Mac" is scheduled to work out for the Bulls on Monday, and could be added to an already upgraded roster, including Carlos Boozer and Kyle Korver. McGrady, 31, has undergone surgeries on his left knee, and played in just 30 games last season.
Contador Seals Tour Win in Time Trial
Alberto Contador all but guaranteed his third Tour de France win in four years, thanks to a strong performance Saturday. Contador held off Andy Schleck in a tight time trial and gained a 39-second lead heading into Sunday's finale. Schleck is set to finish second to Contador for the second-straight year.
Montoya Wins Brickyard 400 Pole
Juan Pablo Montoya is in a good spot at Indianapolis Motor Speedway -- out front. After pacing both of Friday's practice sessions, Montoya turned a lap at 182.278 mph Saturday morning to take the top starting spot at the Brickyard. Brickyard 400 coverage begins at noon ET on ESPN, green flag at 1:19 p.m. ET.