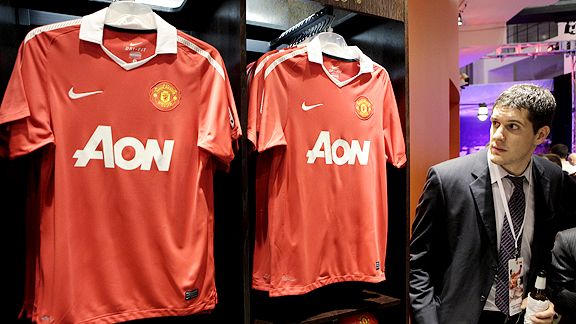 AP Photo/Charles Rex Arbogast
After paying between $120-140 million dollars over four years, AON has earned the award for "Most Valuable Kit Sponsorship."
Forbes recently released their list of the world's most valuable teams and athletes and it contains a few surprises. Manchester United tops the list at $1.83 billion, or roughly the gross national product of the island nation of Fiji. That's a lot of money for a team that started off as the Newton Heath LYR Football Club in 1878.
The Dallas Cowboys, at $1.65 billion, are in second place, leading a pack of six NFL teams in the top ten. While the NFL is the most well-represented sport in the top ten, the New York Yankees are the lone baseball team, following in a close third with $1.6 billion. And as long as we're talking about the Yankees, we may as well take a look at the intangibles of what makes a team so valuable. Some financial, some not so much.
Most Valuable Giveaway
The best thing about free caps on "Cap Day" is probably that they're free. Every fan likes a free promotion, whether it's the minor let-down of "Towel Day" or the Christmas-only-comes-once-a-year event known as "Bobblehead Day." But what could be more valuable than a free pair of sunglasses? How about 30,000 free pairs of custom-colored designer eye-wear? Lucky Mets fans will receive free Ray-bans as part of a game-day promotion this season. Too bad that their future isn't that bright.
Most Valuable Stadium
At $1.3 billion, the new Dallas Cowboys stadium is worth almost as much as the franchise itself. The Giants and Jets have gone one step further with the New Meadowlands Stadium, which at $1.6 billion is worth more than both teams (although not as much as both teams combined). If you thought the NFL would sport the world's most-valuable home, then think again. Wrigley Field cost only about $250,000 when it was built for the Federal League Whales in 1914, but when you consider the property it lies on in relation to the rent for a one-bedroom apartment in Wrigleyville, the Cubs surely take the prize.
Most Valuable Mascot
Dedicated to a life of silent meditation and prayer, no one would ever mistake the Swinging Friar for the most-valuable mascot. Although his brother in arms, the San Diego Chicken, might be up there thanks to being one of the very first mascots and a lifetime of endorsement deals. The most-valuable mascot award probably goes to Wake Forest's Demon Deacon. How many mascots have the income to dress that well? The guy wears a top hat and rides a Harley. Just two reasons why the alumni association probably sends the Deacon more than his fair share of fund raising letters year after year.