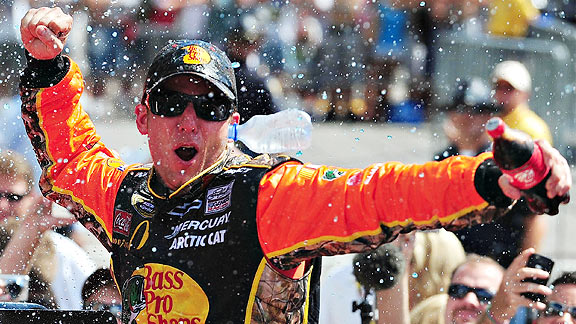 Andrew Weber/US Presswire
McMurray Makes it Two at Indy This Year
Jamie McMurray drove into the history books Sunday at the Brickyard 400. McMurray won the Sprint Cup Series race at Indianapolis Motor Speedway for his 2nd win of the season and 5th of his career. Kevin Harvick finished second.
Sources: Brady, Pats Talks Positive
The New England Patriots and Tom Brady are closing in on a new deal, a source familiar with the situation told ESPN NFL Insider Adam Schefter. Both sides have had an ongoing dialogue described as positive and while no deal is imminent, one now is within reach. Brady has one year remaining on his current contract.
2010 Baseball Hall of Fame Class
Cooperstown welcomed five more members to the Baseball Hall of Fame Sunday. Highlighting the class was Andre Dawson, the 1987 NL MVP. Manager Whitey Herzog, umpire Doug Harvey, ESPN broadcaster Jon Miller (winner of the Ford E. Fricke award) and writer Bill Madden were also part of the induction ceremony
Angels Package Saunders for Haren
The Los Angeles Angels made a big move for their pitching staff Sunday, trading for Dan Haren. In return, the Diamondbacks received pitcher Joe Saunders, two minor league pitchers and a player to be named later. Haren, a three-time All-Star, has averaged 15 wins over the past five seasons and was tied for the National League lead with 141 strikeouts.
Chicago Cubs Job Interests Valentine
ESPN Baseball Analyst Bobby Valentine says he would love to manage the Chicago Cubs once Lou Piniella retires. The former Mets and Rangers skipper calls the Cubs job "one of the most coveted positions in all of sports" and adds "anybody who thinks of himself as a manager would love to be considered as one of the people who might take his place."
Source: Tigers Interested in Lowe
The Detroit Tigers have been hit hard by injury. 2B Carlos Guillen and OF Magglio Ordonez were both placed on the 15-day disabled list Sunday. Guillen is battling a right calf strain, while Ordonez is expected to miss 6-8 weeks with a broken right ankle suffered Saturday night. A source told ESPNBoston.com's Joe McDonald, Detroit could be interested in Boston 3B Mike Lowell.
Contador Wins Tour, Lance Walks Away
Alberto Contador won his third Tour de France Sunday, while seven-time champion Lance Armstrong finished his final Tour in 23rd place. Andy Schleck of Luxembourg was the runner-up, finishing 39 seconds back, and Denis Menchov of Russia was third overall.
Source: Bulls Set Prerequisites to Sign McGrady
Tracy McGrady has a job interview with the Bulls Monday, in the form of a workout. If McGrady convinces Chicago that he is healthy, he'll likely be offered a roster spot, one source familiar with Chicago's thinking said Sunday.
Bryant Refuses to Carry Williams' Pads
The Dallas Cowboys may be expecting big things from rookie Dez Bryant this season, but Dez thinks carrying teammates' shoulder pads shouldn't be one of them. Especially the man he's competing with for a starting job. "I'm not doing it," Bryant said. "I feel like I was drafted to play football, not carry another player's pads." Williams responded by saying, "Everybody has to go through it. I had to go through it. No matter if you're a #1 pick or the 7000th pick, you've still got to do something when you're a rookie."
Kelly: Arrested Players on Short Leash
Notre Dame head coach Brian Kelly isn't afraid to speak his mind. He made it clear Saturday that he was not happy with eight of his players who were arrested last weekend for underage drinking at a party in South Bend, IN. "We hold them accountable for their actions on a day-to-day basis, just like any parent would for a 17- to 21-year-old," Kelly said. Notre Dame opens its season at home against Purdue on September 4.