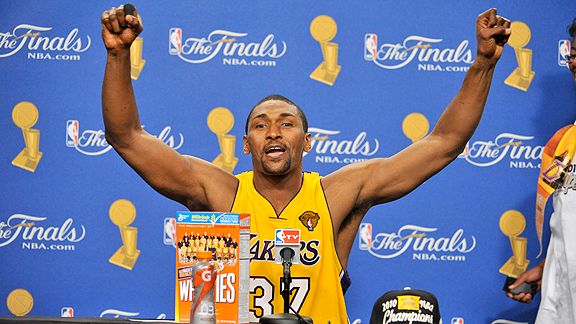 Garrett Ellwood/NBAE via Getty Images
If anyone could use a little fashion advice from the twitterverse, it's probably Ron Artest.
If you're an NBA player and you need to make an important decision, there's really only one foolproof way to go about weighing your options – ask your twitter followers to weigh your options for you and blindly follow their advice.
It worked for Chris Bosh and Amare Stoudemire back when they were indecisive free agents and not members of the Miami Heat and the New York Knicks, respectively. And it worked for Charlie Villanueva last Friday when he just COULD NOT decide on which $200,000+ car to buy: The Aston Martin Rapide or the Lexus LFA. Decisions, decisions.
Villanueva went with the Aston Martin. So now we can all stop worrying about that (phew). But there are so many other decisions still to be made by so many other NBA players. Here are some we'd like to see answered by the twitterverse.
Indecisive NBA Star: Ron Artest (@ronartestcom)
Twitter Query: Help me tweeps. What should I wear to dinner, my Game 7 NBA Finals uni or my dodgeball threads? Thx!
Indecisive NBA Star: Stephon Marbury (@StarburyMarbury)
Twitter Query: Since I'm staying in China, should my nickname be Maker of Cheap Basketball Shoes or Vaseline Eater? Hit me back.
Indecisive NBA Star: Kevin Durant (@KDthunderup)
Twitter Query: Need some help - which part of my body should I get a TEAM USA tat on? My lower back or my ankle?
Indecisive NBA Star: Carmelo Anthony (@carmeloanthony)
Twitter Query: Too many wedding gifts! Should I return the Denver Nuggets toaster or the Denver Nuggets Garden Gnome?
Indecisive NBA Star: John Wall (@Jimmywa11)
Twitter Query: What up DC? What should my new dance be? The funky chicken or the robot? I'll do what you say.
Indecisive NBA Star: Steve Nash (@the_real_nash)
Twitter Query: Which part of my face should I smash to bits in the playoffs next season? Nose and eyes are out, please advise.
Indecisive NBA Star: LeBron James (@kingjames)
Twitter Query: What suit should I get to look great on South Beach? Throwback or something more modern?
Indecisive NBA Star: Shelden Williams (@sheldenwilliams)
Twitter Query: What movie will keep me awake so @Candace_Parker will stop making fun of me on twitter? No more Yo Gabba Gabba!!