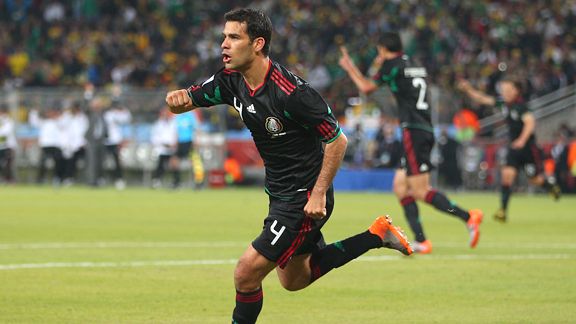 Michael Steele/Getty Images
Rafael Marquez: the player Red Bull fans will love to love and love to hate.
International soccer star Thierry Henry has barely settled in with the New York Red Bulls and he's about to get some help from an old Barcelona teammate. Rafael Marquez is a leading candidate to join the Red Bulls later this week. Marquez, who has been sent off for fouls against Tim Howard and Cobi Jones, is the international player most American soccer fans love to hate. What is a Red Bulls fan to do? Root, root, root for the home team, now that the L.A. Galaxy's recent signings are quickly creating a bi-coastal derby between L.A. and N.Y. As Red Bulls fans get adjusted to the idea of rooting for the enemy, here's a few other examples of how fans coped with the arrival of a once-hated enemy.
When It Comes To Longevity, Favre's A Viking
If there's one thing football fans can look forward to every season, it's checking out the year's new models of tailgate-ready barbecue grills and the "Will he or won't he?" Brett Favre debates which always ends with, "He will." The debate is about as useful as wondering if the Yankees will make the playoffs again. After a one-year sabbatical with the Jets, Favre sailed his way over to Green Bay's rival Vikings, leaving Packers fans crying in their fondue pots. But wouldn't you know it, Favre welcomed his old teammates to the Hubert H. Humphrey Metrodome, throwing for 271 yards in a 30-23 win (becoming the only QB in history to beat all 32 NFL teams). After leading the Vikes to a 12-4 record, Favre then defeated the Cowboys in the playoffs before losing to the eventual Superbowl champion Saints on an, ahem, interception. Still, football fans from Fargo to Rochester will probably be hoping No. 4 returns for his 20th season.
If You Can't Beat 'Em, Retire
Jackie Robinson is universally loved throughout baseball for breaking the color barrier as well as his heads-up play and propensity for stealing home every now and then. Mix in the fact that he spent his entire career with the folkloric Brooklyn Dodgers and you probably have one of the most famous Hall of Famers this side of Babe Ruth. But there was one set of baseball fans that weren't necessarily fans of the Brooklyn second basemen - the crosstown rival New York Giants. But when he was traded to the hated rivals, he decided not to move across town. Instead, he retired. Giants fans never had the chance.
Before He Was A Yankee, He Was A Red Sox
After Boston's late-inning implosion in Game 7 of the 2003 ALCS, the Red Sox were this close to trading away Nomar Garciaparra and Manny Ramirez in a multi-team trade for Magglio Ordonez and Alex Rodriguez. In fact, the trade did happen, only to be called back by the players' union for contract restructuring. We all know what happened next - Rodriguez went to the rival Yankees and the Sox went on to win the 2004 World Series, not only without A-Rod, but also at his expense. The Sox won again in 2007 before the Yankees eventually won two years later. Rodriguez and the city of Boston both got their rings, so consider this trade-that-never-was a draw. Of course, we'd be remiss not to mention the whole Johnny Damon move, but the only loser in that debacle was the former caveman's facial hair.