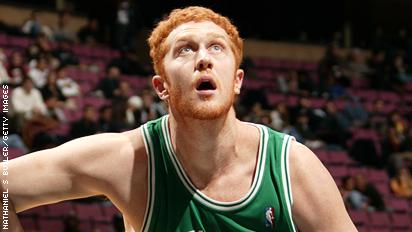 Brian Scalabrine remains an interesting offseason option for NBA teams considering a Michael Rappaport Lookalike Day.
It was an eventful NBA offseason to say the least. The Heat signed the most dominant group of friends this side of the Zack Attack, Phil and Doc are back coaching the Lakers and Celts, and the Wolves won the Darko Milicic sweepstakes to the tune of $20 million over four years -- not bad for seven-footer with a career scoring average of 5.6 PPG, right?
By now the NBA's most sought after free agents have signed on with clubs, but that doesn't mean your favorite team can't still find a bargain. Here's a list of some free agents still waiting for a phone call and what they can bring to your sports franchise:
Brian Scalabrine - Scalabrine turned 32 on March 18th and last season he only averaged 1.5 PPG in his 52 appearances with the Celtics, but you're not signing Veal Scalabrine for his on-court production. The nine-year NBA vet earns his pay boosting team morale via celebrations and trash talking and the best part is you don't even have to slap him five. Oh, and 6'9'' redheads don't grow on trees.
Jason and Jarron Collins - This one's a no-brainer. How often do you get the chance to sign a pair of twins in one offseason? The two-for-one promotions are more than worth the salary the Collins Bros. will command.
Kwame Brown - The former No. 1 overall pick didn't pan out the way Michael Jordan thought, but adding the 28-year-old to your franchise could pay big dividends for your team as the trade deadline approaches. Playing for Washington, L.A., Memphis and Detroit, the Kwamster has plenty of experience packing boxes for cross country trips. If and when your team strikes a deal, Kwame can help pack that players' bags. Yes, that's expensive for a mover, but he doubles as an NBA player.
Josh Howard - Howard's 2009-10 campaign was cut short due to injury, but before last year he averaged over 18 PPG in three consecutive seasons. After checking out this video, we no longer question Howard's durability. He's the perfect buy-low candidate.