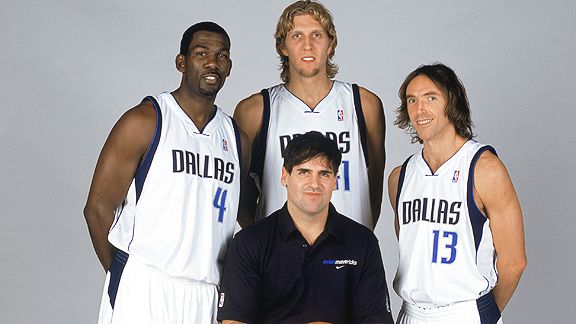 Glenn James/NBAE/Getty Images
What's the worst thing that could happen when Mark Cuban buys your team?
Mark Cuban hasn't decided whether or not to bid on the Texas Rangers, but Ranger fans might be excited by the prospect of the NBA's most passionate owner running Texas' American League franchise. Not to burst anyone's (dot.com) bubble, but there are pros and cons to having a passionate, eccentric billionaire owning your team. Even ones who aren't Tom Hicks.
The Good
Cuban has the money, and the superfan personality, to spend liberally. While the NBA's salary cap keeps every team pretty much spending the same amount ($58 million next season), MLB has no such restriction - although they do have a salary "tax." Still, the Cuban-led Rangers would have to spend over $117 million to be in danger of paying the tax. That's more than twice the Rangers' current payroll (and nearly enough for Cuban to buy a couple more Gulfstreams).
The Bad
Every fan wants an owner who cares as much as they do. He sits on the sidelines, never misses a game and spends more time openly berating officials than the average owner spends pining over a new ivory back scratcher from the comfort of their skybox. But this also comes with a problem or two for the dedicated fan. At major sports venues across the country, fans can often find themselves sitting next to "the guy who cares a little too much." This fan gets into the game a little more than he should - to the point that those around him are a little embarrassed. Away games are even worse - with fellow fans adopting a "this fan does not represent us" shrug of the shoulders. It's one thing to shoulder shrug the guy to your right. It's quite another thing when that guy owns the team. (We wonder if Mavs fans might feel like weighing in here?)
The Ugly
When an owner with a big personality owns a team, there's always the danger that the team becomes more his/her team than the fans'. That tends to happen when the owner picks public fights with opposing teams' moms and also happens to be the biggest celebrity at the game. Any other ownership group is likely to take a backseat to the fans themselves.
None of this is to say that a Cuban-Rangers marriage couldn't work. The dot.com billionaire has proven to owning a self-effacing sense of humor as well as the drive to turn a loser into a contender. Still, if he's going to own any MLB team, he might want to hold out for the Pirates. Pittsburgh is Cuban's hometown team and after the Bucs' previous seventeen seasons, they've demonstrated a collective patience that seems to imply that they'll put up with just about anything. As long as the next Pirates owner spends some dough, we get the feeling they'd be an agreeable bunch.