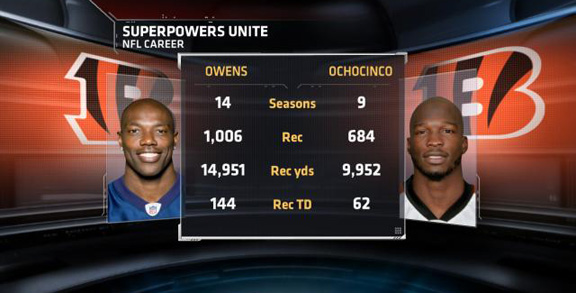 GET YOUR CHILI-POPCORN READY: Both Terrell Owens and Chad Ochocinco have had distinguished careers. They have a combined 23 seasons of NFL experience, with almost 24,000 receiving yards and over 200 touchdowns. However, they do not have the most combined receptions among active teammates. That honor belongs to the Patriots Randy Moss (926) and Torry Holt (920).
After the jump, lets go camping - see which NFL teams are reporting today, find out what the Twinkies did for the first time in the history of the American League and why the Nationals need Steven Strasburg to pitch every game.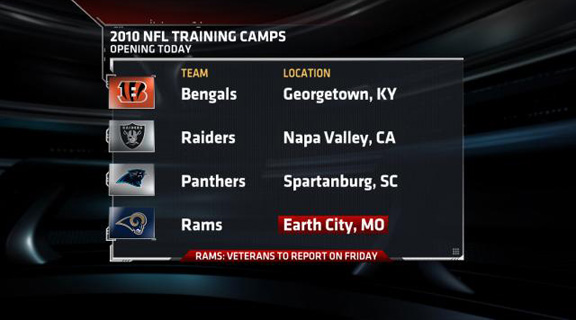 LETS GO CAMPING: Terrell Owens joined the Bengals yesterday just in time as Cincinnati opens camp today. The Bengals, Raiders, Panthers and Rams join 7 other teams that have opened training camp so far this season. Eight more teams open training camp tomorrow.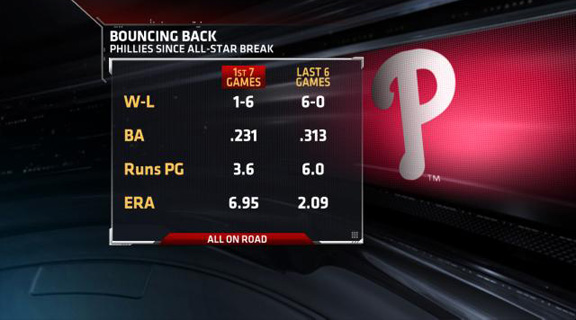 PHILLIES STREAKING: The Phillies came out of the All-Star Break completely flat, losing 6 of 7 on the road to the Cubs and Cardinals. But Philadelphia has now won 6 straight, hitting over .300 as a team to move within 3.5 games of the Braves in the East.
Game Recap | Box Score | Highlight | MLB Standings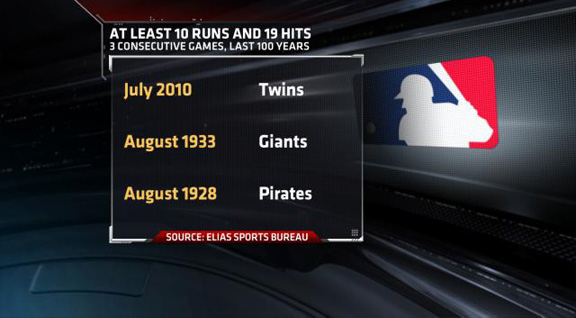 ONE FOR THE RECORD BOOKS: The Twins offense accomplishes something that hasn't been done in nearly 77 years! They have scored at least 10 runs and registered at least 19 hits in 3 straight games, as no team has done that since the 1933 Giants. In fact, they're the first American League team to do so and only the 3rd ever!
Game Recap | Box Score | Highlight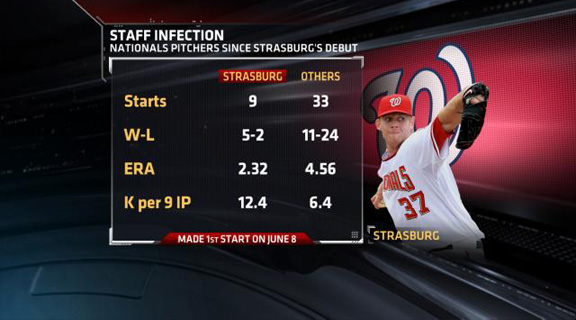 RAISING THE BAR: Jim Riggleman had to be happy to get a decent start out of Miguel Batista. Since Steven Strasburg made his debut, the rest of Nationals staff has an ERA over two runs higher while than the phenom, while striking out about half as often.
Game Recap | Box Score | Highlight | Strasburg listed as day to day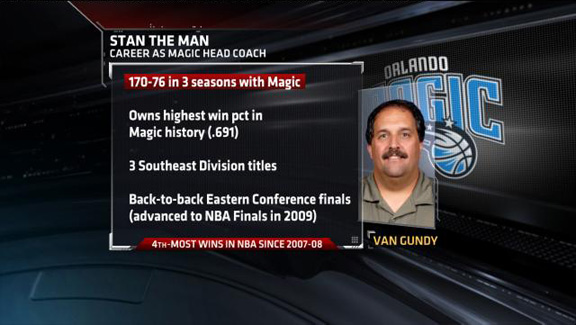 MAGIC MAN: The Magic re-upped Stan Van Gundy and for good reason. In the 3 seasons he's manned the sidelines, Van Gundy has recorded 3 division titles and owns the highest win percentage in team history. In the last 2 seasons the Magic have advanced to the Eastern Conference Finals, including a NBA Finals loss to the Lakers in 2009.