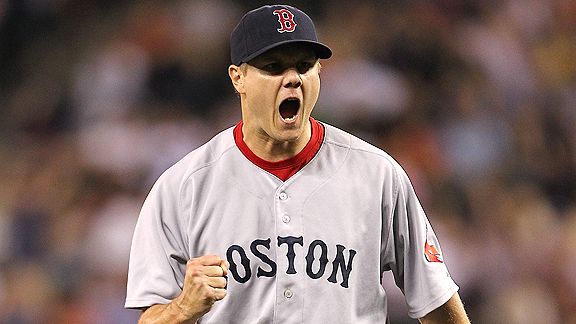 Otto Greule Jr/Getty Images
Is it possible that Jonathan Papelbon has just been yawning the whole time?!?
Last week, the Boston Red Sox had their 600th straight sellout at Fenway Park, but all might not be as shiny and happy as it seems in Red Sox Nation. None other than the Sports Guy himself took note of the local press coverage and sliced up "the Red Sox's boring pie" by assigning a percentage of blame for dwindling Red Sox interest in 2010. His conclusion? In short, it's the length of time of the games.
As others point to a growing apathy towards the team, a lack of big stars, and the extended playoff runs by the Celtics and Bruins as reasons for the drop in popularity, we think we know of a few other causes that may be to blame. Stay tuned, won't you?
One big draw to the Red Sox is broadcaster Jerry Remy, a former Red Sox second baseman and all around goofball. But who needs to follow the Sox when fans can get their daily dose of Remy from loads of other places. Like his restaurant. Or local car dealerships. Or awesome internet videos. It's the classic case of the snake eating its own tail. Only way less gross sounding.
Another big reason for Boston fans to wave their Red Sox flags this season (they all have Red Sox flags, right?) has been new shortstop Marco Scutaro. But really, nothing Scutaro could ever do on the field – hitting for the cycle and knocking a game-winning grand slam included – could top this tribute video. So why should Sox fans even bother? And if you now have that song stuck in your head, you're welcome.
Also, it's not uncommon for the Red Sox mascot Wally the Green Monster to steal some of the team's mojo during games. Which is fun, because Wally's always been big favorite among the kids. But lately, that's been a big cause for concern. Because frankly, Wally just isn't the type of role model parents have in mind for their kids. And if that weren't bad enough, he's been spotted fraternizing with the enemy. And he's not the only one (ahem, David Ortiz, ahem).
Or, as the song goes, perhaps the Sox should Blame Canada. Because isn't it likely that once Jason Bay left this past offseason, the Canadian fans simply stopped cheering? Isn't it? Maybe not.