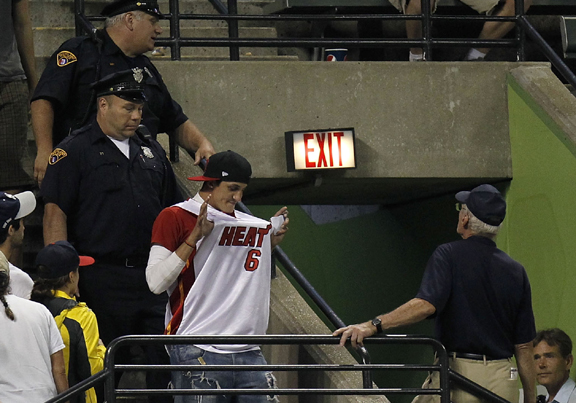 CAN'T STAND THE HEAT, GET OUT OF THE JAKE
If there's one thing to be learned from Nuke LaLoosh (and there's not because there are several), it's that the best reason to bring the Heat to a baseball game is to announce your presence with authority. But if you do it in Cleveland, and you do it with your spankin'-new LeBron James jersey, then your presence might will be removed from Jacobs Field by the authorities. And any announcement might will get drowned out by shouts of obscenities. And you'll miss a 8-0 shutout at the hands of the Yankees. (But you'll make SportsCenter.com.)
Not a Fan of LeBron Fan | Indians Skunked | "Why is he always calling me Meat?"
More from The Rundown, including why Antonio Bryant won't be No. 81 for the Bengals, and two life-changing moments on the golf course, after the jump.
81 = ?
When Antonio Bryant signed, he was given the No. 81 by the Bengals. But when Terrell Owens signed, he wasn't given the No. 81 by Antonio Bryant. He was sold the No. 81 by Antonio Bryant for an unknown amount of cash, with "some going to a charity." So that's nice. Of course, it's not the first time Bryant and Owens have shared a number in the same city. It's just the first time in the same city at the same time.
Read | Owens, the 81 49er | Bryant, the 81 49er
57 > 26,500?
By now, you might have heard of Bobby Wyatt. He's the kid who won't turn 18 until this weekend, yet already turned in a 57 over a full 18 holes at a golf course in Alabama. (It could have been a 56, but he left a birdie putt on 18 hanging on the lip.) But have you heard of Dave Maxey? He's the 23-year-old caddy who talked his golfer out of a 6-iron and into a 5-iron on a par-3 in Michigan. An ace on the hole won the golfer a new Jeep Wrangler worth $26,500. And he gave it to Maxey.
Bobby Wyatt | Dave Maxey | Regardless, always aim for the clown's mouth.