Florida Marlins' Anibal Sanchez, left, celebrates with Cody Ross after beating the San Francisco Giants 5-0
CLOSE TO PERFECTION: Anibal Sanchez threw a complete-game 1-hitter, striking out eight, and Mike Stanton had a pair of RBI doubles as the Marlins earned a split of their four-game series with the Giants. Sanchez faced just two batters above the minimum to earn his first win since June 22. Buster Posey went 0-3 for San Francisco (striking out twice) to snap his 21-game hitting streak. The Giants lost for just the second time in their last eight games. Sanchez is one of six active pitchers to have a no-hitter and 1-hitter to their credit.
Game Recap | Box Score | Highlight
After the jump, Shaun White goes for Gold at X Games 16 in the Super Vert, and two years removed from his second heart transplant, Erik Compton is tied for the lead at the inaugural Greenbrier Classic.
Erik Compton gets ready to celebrate as an eagle putt misses on the 17th hole at the Old White Course
GETTING PUMPED FOR ERIK COMPTON: Just over two years removed from his second heart transplant (you read that correctly...his 2nd), Erik Compton (-7) is tied for the lead after the first round at the inaugural Greenbrier Classic. Compton's best finish in his previous six PGA TOUR events is a tie for 30th at this year's Arnold Palmer Invitational. Compton's 63 Thursday is four shots better than his previous best round on TOUR, a 67 in Round 1 of the 2010 Mayakoba Golf Classic. Compton played the final 15 holes at 9 under par, after bogeying holes 2 and 3. Compton shares the lead with Matt Every, who is also seeking his first PGA TOUR win. Every's best PGA TOUR finish is a tie for eighth at this year's Waste Management Phoenix Open.
Erik Compton Profile | The Greenbrier Classic Leaderboard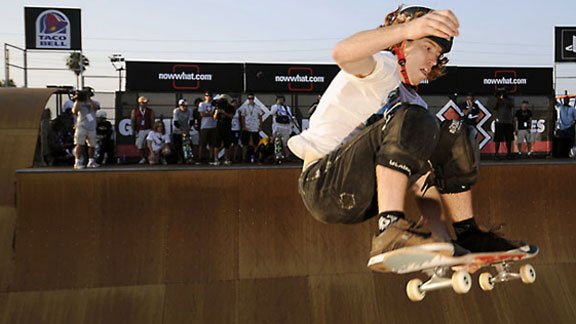 After a hiatus for Winter Olympics training, Shaun White is back on the vert ramp training to compete at X Games 16
X GAMES 16, WHITE SEARCHING FOR MORE GOLD: X-Games Skateboard Vert Best Trick - This event makes its return after a three-year absence. The field is set to include Shaun White, who has tried in vain to land a 1080 (in 51 combined total attempts the last two times the event was held, 2005-06). Tony Hawk and Bob Burnquist, who is in the 2010 field, are the only two-time medalists in this event. And if there's ever been an X Games vert contest to win, this is it. The ramp, for the first time, is set up on the main stage of the Nokia Theater, a 7,100-seat concert venue where the ESPYs was held two weeks ago, and the event is being broadcast live in prime-time Friday night. Coverage begins at 2 ET on ESPN, and continues at 7 ET on ESPN.
With the help of a new private halfpipe, Shaun White is ready for X16 | All that happened Thursday, and all that will happen Friday, at X16